HRL Laboratories built and tested the rugged, water-proof, modular, 360° imaging sensor nicknamed OWL (Omni-directional threat Warning and Locator).
Malibu, CA May 10, 2013

During a May 1 deployable force protection exercise at Fort A.P. Hill in Virginia, HRL Laboratories, LLC demonstrated a new 360-degree imaging sensor front-end as part of DARPA's Cognitive Technology Threat Warning System (CT2WS). HRL developed the sensor front-end that communicates with the system's EEG-based head gear worn by a user to identify the most pertinent threats in any direction at a distance of up to 10 km with few false alarms. Previously, the sensor provided an unobstructed 120-degree field of view.
HRL Laboratories, LLC, Malibu, California (http://www.hrl.com) is a corporate research-and-development laboratory owned by The Boeing Company and General Motors specializing in research into sensors and materials, information and systems sciences, applied electromagnetics, and microelectronics. HRL provides custom research and development and performs additional R&D contract services for its LLC member companies, the U.S. government, and other commercial companies.
The views expressed are those of the author and do not reflect the official policy or position of the Department of Defense or the U.S. Government.
Featured Product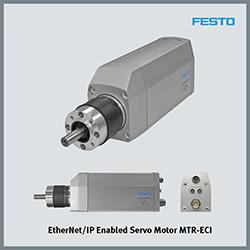 Mechatronic Motion Solutions from Festo is a unique system of components, modules, and software. It integrates all types of pneumatic, servopneumatic and (electro)mechanical automation motion and combines them according to your task. Irrespective of the control system environment you use, Mechatronic Motion Solutions always provides the appropriate interfaces. The fingers can be actively moved and their strength amplified; the operator's hand movements are registered and transmitted to the robotic hand in real time. The objectives are to enhance the strength and endurance of the human hand, to extend humans' scope of action and to secure them an independent lifestyle even at an advanced age.