MoviMED, a motion and vision system integration specialist with more than 45 combined man-years of experience with NI products, has been named a Vision Specialty Alliance Partner.
IRVINE, CA May 13, 2013

MoviMED Custom Imaging Solutions has been named a Vision Specialty Alliance Partner by National Instruments. The company received this designation for its specialized machine vision capabilities, and for an established track record of delivering leading-edge, multifaceted machine vision and integrated motion solutions to a diverse client base in a wide range of industries.
MoviMED is proud to announce the Vision Specialty Alliance Partner designation, and is honored to have been recognized by National Instruments as a top-tier solutions provider. This designation further underscores MoviMED's position as a leader in the global machine vision marketplace.
"MoviMED definitely goes out of their way to provide valuable, cost-effective solutions for customers, and the company works exceptionally hard to ensure that customers are completely satisfied," said Gregory Smith, area sales manager at National Instruments. "MoviMED founder and CEO, Markus Tarin, has put together a very highly skilled team of engineers within his company... and they are definitely a 'go-to' organization for machine vision automation. I highly recommend MoviMED."
"We believe the National Instruments Vision Specialty Partner title is the direct consequence of 13 successful years of custom machine vision integration," said Markus Tarin, CEO at MoviMED. "Our customer-driven, start-to-finish approach enables us to deliver targeted, quality solutions both to our OEM partners, who are building vertically-integrated products for specific industries, and for our specialty customers, who require complex, customized motion and vision applications. Incorporating National Instruments products into our projects has always made good business sense for us, and we anticipate continuing this successful formula in the years ahead."
About MoviMED
MoviMED is an advanced machine vision integration company located in Irvine, CA. Founded in 1999, the company employs a customer-centered business model to provide cost-effective, targeted solutions for biotech, aerospace, manufacturing, and OEM partners. Competencies include advanced 2D, 3D, and thermal imaging, as well as motion control and robotic integration. As a Silver National Instruments Alliance Partner and Fanuc Robotics Authorized Integrator, MoviMED specializes in cutting edge, turn-key motion/vision solutions, and vertically-integrated applications for OEM markets.
Featured Product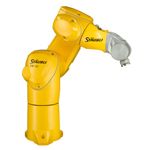 Stäubli offers a complete range of robotic tool changing systems for payloads of 20 kg to 1,530 kg and torsion moments from 30 to 12,500 Nm, designed for use in virtually every industry. The tool changers adapt to customer-specific applications with different modules for media, data, power, etc. The new MPS 130 robotic tool changer is powerful, very robust, and designed for a huge range of applications. It features multiple couplings for air/vacuum connections, and can be equipped with connectors for data and electrical transmission. Very compact dimensions, with a coupled height of only 67 mm, make the MPS 130 the first choice for applications requiring a high number of mating cycles.