Israeli original equipment manufacturers (OEMs) of unmanned aerial systems (UAS) have aggressively marketed these platforms, helping them become the top exporter of UAS platforms, globally.
A recent market insight published by the global consulting and research firm Frost & Sullivan (www.defense.frost.com), on Israeli Unmanned Aerial Systems, finds that Israel's UAS export revenue totaled $4.62 billion from 2005 to 2012. The top purchaser of these exports spending-wise is the UK, although Israeli OEMs also have strong UAS trading relationships with India and Brazil markets.

If you are interested in more information on this study, please send an e-mail to Jeannette Garcia, Corporate Communications, at jeannette.garcia@frost.com, with your full name, company name, job title, telephone number, company e-mail address, company website, city, state and country.
"Israeli defense firms rely on exports for the majority of their revenue," said Frost & Sullivan Aerospace & Defense Senior Industry Analyst Michael Blades. "UAS exports have accounted for nearly 10 percent of the country's total defense export industry, and this is expected to increase."
In the past, Israeli defense companies greatly depended on the U.S. Department of Defense for overall exports. In recent years, the U.S. has enforced stringent rules on the import and export of defense-related products into the U.S. through the International Traffic in Arms Regulations (ITAR).
As worldwide demand for UASs increases, growth in Israeli UAS export and licensing agreement values are expected to grow since they are not subjected to the same "red tape" process that currently hinders the US State Department's Foreign Military Sales (FMS) processes.
"Total defense exports will likely increase steadily, as Israeli companies form strategic partnerships and continue aggressive marketing campaigns with countries in growing UAS markets, such as Africa, APAC, and South America," added Blades.
Eran Flumin, Frost & Sullivan Director of Israel Operations & Consulting, added that the success of the UAS Industry in Israel, like other defense industries, is driven by innovation, early adoption, and entrepreneurship that characterize the entire Israeli Industry.
Israeli Unmanned Aerial Systems is part of the Aerospace & Defense Growth Partnership Services program, which provides global Mega Trends, information on emerging markets and the latest technology innovations, market, economic, customer, competitive, and best practices research. This CEO 360 degree perspective will enable your company to effectively plan your strategies for growth. All research services included in subscriptions provide detailed market opportunities and industry trends that have been evaluated following extensive interviews with market participants.
http://www.frost.com/
Featured Product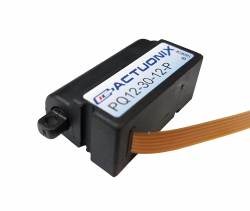 The PQ12-R series of linear servos are the smallest affordable linear servo on the market today. Small enough to fit inside a tic tac box, it's very powerful with a maximum force of over 11lbs. It operates as a direct plug-and-play replacement for standard rotary servos, using the same standard 3 wire connector. Regardless of how you drive your servos, be it with an RC receiver, an Arduino board, or a VEX micro-controller, the PQ12-R servo will function in place of a regular servo, but with the added benefit of providing linear motion. They're available in a 20mm stroke coupled with gear ratio options of 30:1, 63:1 and 100:1 cover a large variety of applications. Our PQ12 is popular used in a variety of robotics applications, medical devices, radio control and 3D printable bionic hands. Our PQ12 is proudly designed in Canada by our in-house team of engineers and thoroughly tested before leaving our facility.