AIS Industrial Touch Panel PC Computers are now one of the high growth HMI solutions in the market today
Irvine, California - American Industrial Systems Inc. AIS, an ISO 9001:2008, is a certified supplier and manufacturer of Panel PCs, or also known as Panel Computers, and one of the key devices in Human Machine Interface (HMI) design for industrial process and control applications. By expanding its portfolio of HMI solutions available through its channel partners, AIS Industrial Touch Panel PC Computers are now one of the high growth HMI solutions in the market today. According to IHS/IMS Research latest report, AIS is currently ranked #4 in terms of worldwide market share in the Embedded Panel Industrial PCs, and is continuing to grow and expand. These Industrial Touch Panel PC Computers are now available through Amazon.com, Inc. (AMZN: NASDAQ GS), Provantage, and other B2B e-Procurement Channel Partners.

Human Machine Interface , also known as Human Computer Interaction (HCI), plays a significant role in industrial automation, enabling the efficient operation and monitoring of essential production devices. Growth in automation industries is a major driver in enhancing the substantial increase in the HMI market. The overall HMI market is estimated to be worth $2.50 billion in 2012 and expected to reach $4.05 billion in 2017 at a CAGR of 10.13% from 2012 to 2017 (Reference: marketsandmarkets.com, Publishing Date: November 2012, Report Code: SE 1678).
AIS Operator Interface Panels, also known as Operator Interface Terminals, are Industrial PCs with fully integrated industry-capable touch panels and rugged displays. This product features Intel's comprehensive embedded processors and chipsets, low power consumption, fan-less design, shock, and vibration and temperature resistance capabilities; designed specifically for operator interface, visualization and control solutions. AIS Commercial Off-The-Shelf (COTS) operator interface panels are ready-to-run systems assuring the compatibility of hardware and software, including Power Over Ethernet (POE), Multi-Touch Screen, IP65 Panel Mounting, IP66 Stainless Front Flat Panel Mounting and Windows Embedded Standard 7 or Windows Embedded Compact 7 operating system for a wide variety of industrial applications. AIS Operator Interface Terminals are designed for industrial, process manufacturing, discrete manufacturing, industrial automation, building automation, process control, machinery manufacturing, and custom machine to machine interface applications.
AIS READY-TO-RUN TOUCH PANEL PCs WITH INDUSTRIAL DESIGN, USABILITY AND FLEXIBILITY, ARE NOW AVAILABLE THROUGH AMAZON.COM AND B2B E-PROCUREMENT PARTNERS
*PMW10ID3S-H1-4RT-XPPE: The AIS 10.1" Industrial Touch Screen Panel PC Computer with Intel Atom Dual Core D2550 1.86 GHz, fan-less all-in-one industrial design, IP54 rated, configurations with 2GB DDR, 160B HDD, 2 x Ethernet, 2 x Serial, 2 x USB, 1 x VGA, 12V DC, Pre-installed Windows XP Professional for Embedded Systems. Average Selling Price: $999
*IPW10ID3S-H1-PoE-PCT: The AIS 10.1" Industrial Multi-Touch Panel PC Computer with Intel Atom Dual Core N2600 1.60 GHz, fan-less all-in-one industrial design, IP65 rated, configurations with 2GB DDR, 32GB SSD, 1 x Ethernet, 1 x PoE, 2 x Serial, 2 x USB, 1 x VGA, 2 x DIO, 24V DC, Pre-installed Windows Embedded 7. Average Selling Price: $999
*IP15ID7T-C3-5RT-XPPE: The AIS 15" Industrial Touch Screen Panel PC Computer with Intel Atom Dual Core D2550 1.86 GHz, fan-less all-in-one industrial design, IP65 rated, configurations with 2GB DDR, 160B HDD, 2 x Ethernet, 3 x Serial, 4 x USB, 1 x VGA, 2 x PS/2, 12V DC, Pre-installed Windows XP Professional for Embedded Systems. Average Selling Price: $1,099
*IP10IA99-A1-S-XPPE: The AIS 10.4" Rugged Stainless Touch Screen Panel PC Computer with Intel Atom N455 1.66 GHz, fan-less all-in-one industrial design, IP66 rated, configurations with 2GB DDR, 160GB HDD, 2 x Ethernet, 2 x Serial, 4 x USB, 1 x VGA, 24V DC, Pre-installed Windows XP Professional for Embedded Systems. Average Selling Price: $1,199
*IP15IA99-A1-S-XPPE: The AIS 15" Rugged Stainless Touch Screen Panel PC Computer with Intel Atom N455 1.66 GHz, fan-less all-in-one industrial design, IP66 rated, configurations with 2GB DDR, 160GB HDD, 2 x Ethernet, 3 x Serial, 4 x USB, 1 x VGA, 24V DC, Pre-installed Windows XP Professional for Embedded Systems. Average Selling Price: $1,399
Featured Product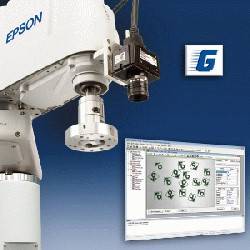 EPSON Robots is the global leader in PC controlled precision factory automation, with an installed base of over 45,000 robots and a product line of hundreds of models of easy to use SCARA, Cartesian and 6 axis robots based on a common PC based controls platform. EPSON offers powerful options such as Vision Guide, Conveyor Tracking, .Net Connectivity, GUI Builder, Force Sensing, DeviceNet, Profibus, EtherNet/IP, Ethernet I/O and more. Building on a 30 year heritage, EPSON Robots delivers robots for precision assembly and material handling applications in the automotive, medical device, appliance, biotechnology, consumer product, electronics, food, pharmaceutical, plastics, semiconductor, and other industries. For more information, visit us at www.epsonrobots.com , or contact us directly at +1.562.290.5910