Advantage™ 100 vision system and the AE2 Advantage
Cognex® Corporation (NASDAQ: CGNX), the world's leading supplier of machine vision systems, announced today that it has released two new products, the Advantage™ 100 vision system and the AE2 Advantage engine designed for integration into Original Equipment Manufacturer (OEM) devices and equipment. OEM equipment designers can now take full advantage of powerful Cognex vision and code reading technology in even the most space-constrained and cost-sensitive applications such as those in the clinical diagnostic, printing, kiosk or medical device industries.

The Advantage 100 vision system is a compact (23mm x 44mm x 54mm), enclosed vision system with customizable optics, lighting and Ethernet communications suitable for integration into large automated clinical diagnostic systems.
The AE2 Advantage vision engine provides an even smaller (14.5mm x 29.1mm x 20.5mm) form factor designed for tight integration deep inside the enclosure of OEM devices manufactured in high volumes such as medical instruments and printers.
"The new Advantage 100 system and AE2 Advantage engine provide a whole new group of customers access to Cognex products," says Cognex Vice President and Business Unit Manager for Vision Software and Sensors, Joerg Kuechen. "Given the new low price point for high volume OEMs we can now provide the advanced capabilities of Cognex vision, alignment and code reading technologies in a product that can be held on the tip of your finger."
The Advantage 100 vision systems and AE2 Advantage engines are available now. For more information, visit www.cognex.com/advantage.
About Cognex
Cognex Corporation designs, develops, manufactures and markets machine vision and industrial ID systems, or devices that can "see." Cognex vision and ID systems are used around the world for a wide range of inspection, identification and guidance applications throughout the manufacturing and distribution process. Cognex is the world's leader in the machine vision and industrial ID industries, having shipped more than 850,000 systems, representing over $3 billion in cumulative revenue, since the company's founding in 1981. Headquartered in Natick, Massachusetts, USA, Cognex has regional offices and distributors located throughout North America, Europe, Asia, Japan and Latin America. For details, visit Cognex on-line at http://www.cognex.com.
Featured Product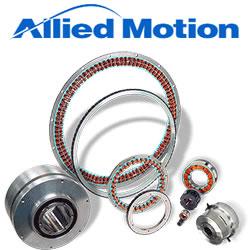 Allied Motion's Megaflux MFH170i series of 170 mm (6.7 in) diameter housed brushless torque motors consists of a high performance brushless DC torque motor, a digital servo drive, and an optical encoder, all integrated into a rugged machined aluminum housing with robust duplex bearings. The MFH0170i series features a 63.5 mm (2.5 in) large-bore through shaft, and is characterized by a very high torque-to-inertia ratio. There are three stack lengths in the series with peak torque ranging from 8.5 up to 16.9 Nm (75 up to 150 lb-in). The standard winding voltage is 48 V. And to ease the hassle of long leadtimes for prototypes, the new MFH170i is now available through our QuickShip program.