Learn How to Plan, Operate and Justify the Costs of an Automated Supply Chain and Materials Handling Operation
Woodland Hills, CA May 29, 2013

Infocast is pleased to announce its inaugural Automation, Robotics & the Supply Chain Summit, premiering July 16-17 at the Fairmont Pittsburgh. With a faculty comprised of system integrators, robotics and automation technology providers, plus the companies utilizing those technologies today, this ground-breaking summit will teach you how to plan, operate and justify the costs of an automated supply chain and materials handling operation. Two dual-track workshops precede the summit on Tuesday, July 16: Constructing a Roadmap for Successful Automation and Building Your Automated Supply Chain Team, and will delve into the economics of automating your materials handling operation.
The market for supply chain and distribution services is in upheaval, driven by increasing consumer demand for next-day and same-day deliveries and an expanding variety of product offerings. The rise to prominence by E-commerce has accelerated this trend, but those operating in food and consumer goods are also feeling the push of demand in the form of rising numbers of SKUs and the challenge of delivering them reliably and quickly from the warehouse to the sales floor. By embracing advanced automated supply chain solutions and robotics, distributors and suppliers can not only expect to experience lower operational costs but also greater throughput and ultimately higher revenues as they prosper in the 21st century supply chain.
Only those operators who are well versed in the financial risks and rewards, technical considerations, and long-term trends will prosper as the market for their services continues to evolve and grow. For any distributor or supplier, careful strategic planning is required to justify the costs and identify the right technologies to ensure an enhanced bottom line. Infocast's Automation, Robotics & the Supply Chain Summit will be the place to network with leaders in the field, share experiences with peers, build strategies and strike deals that will empower you to offer more services in an increasingly complex market and generate greater profit for your business.
The power-packed program includes experts from: Anheuser-Busch, Daifuku Webb, Egemin Automation, enVista Corporation, Fanuc Robotics, Grenzebach Corporation, JBT Corporation, Miebach Consulting, Sapient Automation, SAS Automation, Seegrid, SICK, St. Onge Company, Vanderlande Industries, Westfalia Technologies, Wirtz Beverage Illinois, plus more and with end-users to be announced!
To register for the Summit, or for more information on the program, to join us as a speaker or a sponsor, please visit the event website at infocastinc.com/automation13, or contact Infocast Events at 818-888-4444.
About Infocast
For over 25 years, Infocast has produced the highest quality events, tailored to the needs of the industries we serve. We intensively research the marketplace, pulling from an extensive network of experts to give you the information and connections to succeed.
Featured Product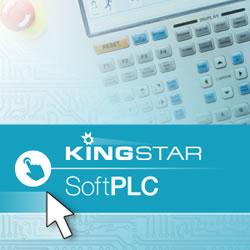 The top machine builders are switching from proprietary hardware-based PLCs, like Allen-Bradley, TwinCAT, Mitsubishi and KEYENCE, to open standards-based EtherCAT-enabled software PLCs on IPCs. KINGSTAR provides a fully-featured and integrated software PLC based on an open and accessible RTOS. KINGSTAR Soft PLC also includes add-on or third-party components for motion control and machine vision that are managed by a rich user interface for C++ programmers and non-developers alike.