LAST armor is a unique, field installable system for use on a variety of fixed and rotary wing aircraft
Reston, Va. - June 4, 2013 - QinetiQ North America (QNA) today announced that Lockheed Martin has selected its enhanced LAST® lightweight composite armor to protect AC-130J aircraft.

Part of QNA's survivability suite, LAST armor is a unique, field installable system for use on a variety of fixed and rotary wing aircraft. Each unit is designed using an array of armor formulas and configurations, depending on mission priorities and threat mitigation requirements.
"QinetiQ North America has been committed to delivering high quality armor systems to the C-130 aircraft community for over 15 years," said QNA's Technology Solutions General Manager Andy Rogers. "Our experts are working at the forefront of material sciences and process enhancements to offer the latest technology for modernization requirements."
In addition to delivering the proven LAST armor system, QNA has partnered with leading technology innovators to develop the best possible solutions for ballistics modernization. Key team contributors on the LOX program include Incident Control Systems and TenCate Advanced Armor.
Part of QinetiQ's Global Products division, QNA's Technology Solutions Group is a world leader in technology solutions that save lives in defense, security and commercial environments. Survivability solutions include comprehensive armor, blast protection, integrated warrior systems and gunfire detection systems that are scalable for use in fixed-site, mobile, vehicle-mounted or wearable applications.
For more information, visit www.QinetiQ-NA.com, read our blog at techblog.qinetiq-na.com, and follow us on Facebook at www.facebook.com/survivability or Twitter at www.twitter.com/qinetiqsurvival.
About QinetiQ North America
QinetiQ North America (QNA) is a subsidiary of QinetiQ Group plc, the FTSE250 company listed on the London Stock Exchange (LSE:QQ.L). Operating in North America, QNA delivers world-class technology, responsive services, and innovative solutions for global markets, focusing on US government and commercial customers. Its engineers, scientists and other professionals deliver high quality products and services that leverage detailed mission knowledge and proven, reliable tools and methodologies to meet the rapidly changing demands of national defense, homeland security and information assurance customers. QNA is headquartered in Reston, Virginia. For more information visit www.QinetiQ-NA.com.
Featured Product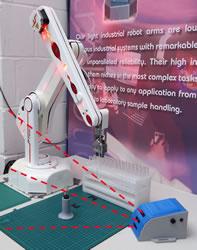 ST Robotics have decades of experience in industrial robots having sold hundreds of robots over the years. The company has 3 main models, R12, R17 and R19 all using a unique simple industrial technology that dramatically reduces costs resulting in the lowest priced industrial robots available. The same uncomplicated technology vastly improves reliability. ST backs this up with a 2 year warranty. Typical applications are routine testing, sample handling and also education. The software is a different paradigm from most robots. It is command based; you type a command and see immediate action. Programming is a building block approach, building confidence as you program in small 'mind-sized bytes'. ST offers free unlimited technical support.