"Having an area dedicated to robots specifically designed for the security market indicates the need for this type of technology"
DENVER, June 18, 2013 -- Vigilant Robots, Colorado-based manufacturer of the Vigilus™ Mobile Camera Platform, an autonomous patrol-and-report security robot, has been invited to exhibit at the inaugural Security Robotics Zone within ESX, the Electronic Security Expo, in Nashville this week.

"We were thrilled to find out there had been an actual section of the exhibit floor carved out for robotics," said CEO Dr. Louise Gunderson. "Having an area dedicated to robots specifically designed for the security market indicates the need for this type of technology," she continued. "Most important to us, however, is the focus on Security Integrators. This show is for them, and it is the Security Integrator who is looking for the cutting-edge solutions for their customers that we hope to connect with this week."
"ESX is the perfect venue to show our robots, and we'll have one on patrol both days of the exhibition. We want to show integrators that while an autonomous robot is high-tech, and a perfect addition to some security teams, it is composed of mostly off-the-shelf components so service is a simple matter." Pam Gheysar, Vice President of Business Development continued, "Our product offers a less-than one year ROI for the end-client, a profit at the sale for the Security Integrator who installs the robot, and RMR via an annual service contract and that is a triple win."
The award-winning robot (ASIS Accolades Sept 2012, SIA New Product Showcase Honorable Mention) may receive a third security industry award in as many competitions. "Our research has paid off; we asked experts in the security industry what our robot had to do to be useful and that is what we built," said Dr. Louise Gunderson. "Moving forward we will continue to listen to industry experts as we develop future generations. Those Intetgrators who add robots to their inventory of products and service skills will help us form the future of autonomous security robotics and that is very exciting!"
Featured Product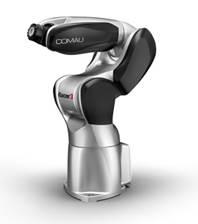 Racer3 is a powerful, high-speed, 6-axis articulated robot featuring a payload of 3kg and a reach of just 630 mm. Built from high-strength aluminum, the newest innovation in Comau robotics is lightweight and can be easily mounted on benches, walls, ceilings or on inclined supports. The third robot within the award-winning Racer family, Racer3 is Comau's response to the growing demand for fast, cost-effective robotic automation within small to medium-sized enterprises and emerging countries. Racer3 is intended for general industry use to increase productivity and reduce overall costs by automating industrial applications. It combines field-proven technology and enhanced dexterity with a keen focus on safety, design and product aesthetics. With a streamlined design and brushed metal exterior, the new powerhouse of a robot combines beauty and speed together with absolute precision and repeatability. Primary applications include assembly, material handling, machine tending, dispensing and pick & place.