A New Catalyst for Big Data and Business Intelligence Innovative Machine-as-a-Service (MaaS) Business Model
SILICON VALLEY, Calif.--Knightscope, Inc. announced today at the nestCON 1.2 Internet of Things conference that it is developing a new technology termed Autonomous Data Machines. A large-scale deployment of autonomous technology, sensors and robotics will digitally connect vast portions of the offline world to the online world, enhancing the true potential of Big Data and Business Intelligence. Billions are spent by organizations for the best intelligence each year, but only data that has actually been collected can be analyzed.

Knightscope has already begun securing beta customers for its first two machines - the Knightscope K10 and the Knightscope K5 - through its innovative Machine-as-a-Service (MaaS) subscription model. The K10 robot will be utilized in vast open areas and on private roads while the K5 robot has a form factor better utilized in more space constrained environments. Beta testing will commence at the end of 2013.
An integrated machine operating system will guide each unit autonomously through defined boundary conditions while a sensor operating system will collect data from the immediate surroundings of the unit and feed information into the Company's network operations center.
With a vast array of sensor payload options including omnidirectional cameras, microphones, optical character recognition, thermal imaging, air quality, ultrasonic, lasers and infrared, each machine will collect significant quantities of real world data providing organizations with historic and real time information, behavioral analysis, and user-defined alerts enabling improvements in intelligence and analytics, and ultimately serving to make better decisions.
According to McKinsey & Company (McKinsey Report, May 2013), the economic impact of Autonomous Technology could be $200 billion to $1.9 trillion per year by 2025. Knightscope's Autonomous Data Machines will be deployed wherever interactive data gathering is needed including, but not limited to:
CONSTRUCTION - contractors monitoring progress at construction zones
REAL ESTATE - brokers seeking detailed traffic analysis
DEFENSE - military bases needing perimeter surveillance
TECHNOLOGY - tech companies needing to improve mapping data refresh rates
SECURITY - communities improving neighborhood watch
INDUSTRIAL - manufacturing plants improving physical inventory control
AGRICULTURE - farms and ranches requiring monitoring
ENERGY - power plants requiring inspection
About Knightscope, Inc.
Knightscope is a developer of Autonomous Data Machines - a large-scale deployment of autonomous technology, sensors and robotics. These autonomous mobile devices will, in a variety of form factors, gather data from the offline world and, when combined with existing large data sets, provide organizations with historical and real time information enabling better decisions. Learn more at www.knightscope.com.
Featured Product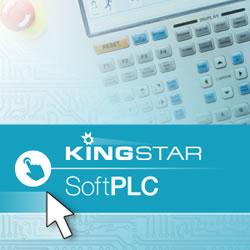 The top machine builders are switching from proprietary hardware-based PLCs, like Allen-Bradley, TwinCAT, Mitsubishi and KEYENCE, to open standards-based EtherCAT-enabled software PLCs on IPCs. KINGSTAR provides a fully-featured and integrated software PLC based on an open and accessible RTOS. KINGSTAR Soft PLC also includes add-on or third-party components for motion control and machine vision that are managed by a rich user interface for C++ programmers and non-developers alike.