The new hires will provide expert sales support to meet the software needs of Knighted and Intelligrated customers.
(Cincinnati: June 25, 2013)-Intelligrated® (www.intelligrated.com), a North American-based automated material handling solutions provider, today announces three new additions to the account management and sales team of its New York-based software subsidiary, Knighted® (www.knightedcs.com). The new hires will provide expert sales support to meet the software needs of Knighted and Intelligrated customers.

Scott Wells, Joe Nentwig and Michael Brown will manage major accounts and ensure the strategic direction of Knighted aligns with that of its customers. The new hires will report to Craig Wilensky, vice president, worldwide sales, Knighted.
"Adding these talented individuals to our sales team will help us leverage our investment in Knighted to provide the best logistics software solutions for our customers," said Greg Cronin, executive vice president, Intelligrated.
Wells, Nentwig and Brown have more than 80 years of logistics and supply chain experience combined, and have held positions with RedPrairie, FKI Logistex, Manhattan Associates and Reddwerks before joining Knighted. The new hires are part of Intelligrated's growth strategy for its software subsidiary Knighted, which it acquired in 2012.
For sales and marketing information, please contact Emily Smith, marketing supervisor, Intelligrated, by phone at 513.881.5239 or by email at emily.smith@intelligrated.com.
For media information, can also contact Natalie Fioto, public relations, Koroberi, by phone at 919.945.0566 or by email at natalie@koroberi.com.
About Intelligrated
Intelligrated® (www.intelligrated.com) is a leading North American-based, single-point provider of automated material handling solutions with operations in the U.S., Canada, Mexico and Brazil. Headquartered in Mason, OH, a suburb of Cincinnati, Intelligrated designs, manufactures and installs complete material handling automation solutions, including conveyor systems, IntelliSort® sortation systems, Alvey® palletizers and robotics, Real Time Solutions® order fulfillment systems, warehouse control software and advanced machine controls-all supported by 24X7 Customer Service and Support.
Through its New York-based subsidiary company, Knighted® (www.knightedcs.com), Intelligrated offers web-enabled logistics software for today's supply chain operations including warehouse management software (WMS), warehouse control software (WCS) and labor management software (LMS).
Serving the warehousing, distribution, consumer product manufacturing, postal and parcel markets, Intelligrated collaborates closely with its clients to develop productivity solutions and support their needs throughout the life of their material handling systems. For more updates, follow us on Twitter @Intelligrated.
Featured Product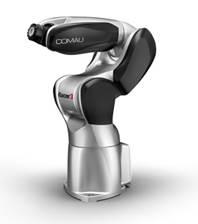 Racer3 is a powerful, high-speed, 6-axis articulated robot featuring a payload of 3kg and a reach of just 630 mm. Built from high-strength aluminum, the newest innovation in Comau robotics is lightweight and can be easily mounted on benches, walls, ceilings or on inclined supports. The third robot within the award-winning Racer family, Racer3 is Comau's response to the growing demand for fast, cost-effective robotic automation within small to medium-sized enterprises and emerging countries. Racer3 is intended for general industry use to increase productivity and reduce overall costs by automating industrial applications. It combines field-proven technology and enhanced dexterity with a keen focus on safety, design and product aesthetics. With a streamlined design and brushed metal exterior, the new powerhouse of a robot combines beauty and speed together with absolute precision and repeatability. Primary applications include assembly, material handling, machine tending, dispensing and pick & place.