High speed and low cost pick and place ROBOTS | vision controlled | by usb Tablet or Pc.
Pick and place robot. Aluminium rail 140mm, Length until 1m.

Custom program easy to write in Matlab language.
Travel x 800mm max
Travel y 160mm
travel z 50mm
Speed 60 pieces/ minute from alternate positions ( for short travels 300mm)
For fixed positions some faster.
Servo Ac motor 400W, 315VDC, more two stepper motors.
About 30Kg.
Power supply 220-240VAC 50-60HZ, 5A.
Needs air supply for the gripper or suction cup (an small compressor is enough 1CV)
Price $3300 USD
Include slide + motors + all control + tablet + program + camera with lens + two grippers.
Featured Product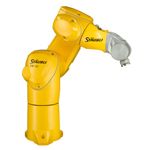 Stäubli offers a complete range of robotic tool changing systems for payloads of 20 kg to 1,530 kg and torsion moments from 30 to 12,500 Nm, designed for use in virtually every industry. The tool changers adapt to customer-specific applications with different modules for media, data, power, etc. The new MPS 130 robotic tool changer is powerful, very robust, and designed for a huge range of applications. It features multiple couplings for air/vacuum connections, and can be equipped with connectors for data and electrical transmission. Very compact dimensions, with a coupled height of only 67 mm, make the MPS 130 the first choice for applications requiring a high number of mating cycles.