The LR17 is the first motor in a series with four different sizes.
The new LR17 expands MICROMO's strong line-up of piezo technology from PiezoMotor and is offered with an integrated absolute encoder.

The compact LR 17 is a mere 17 mm in diameter and has all the benefits coming from the Piezo LEGS technology. The stall torque from the motor is 30 mNm, which is high compared to its small size. Because of the self-locking feature of the friction drive, the motor can hold position without consuming any power. The integrated 15 bit magnetic absolute encoder gives a closed loop resolution of 0.2 milli-radians (0.01º). Through the Piezo LEGS technology, you get an amazing sub-micro-radian resolution in open loop.
"The LR17 is the first motor in a series with four different sizes. It allows our customers to have a very compact motion solution, including sensor for easy integration. It follows our motto - Simplicity in Motion. The Piezo LEGS technology makes it possible to continue improving existing customer design when conventional motor technology has reached their limits" says Anders Larsson, Sales & Development manager at PiezoMotor.
About PiezoMotor AB, MICROMO's piezo technology partner
PiezoMotor AB is a world leading developer and manufacturer of unique micro motors made of piezoelectric ceramic materials. The company's motors are very small and precise, making them ideal for small advanced systems where high precision, often at the nanometre level, is required. Such application requirements continue to grow at a rapid pace.
PiezoMotor AB's products are sold worldwide through its own sales force and through a network of distributors. The company also has a global marketing and sales partnership with the FAULHABER Group, with approximately 1,500 employees.
PiezoMotor AB was founded in 1997 based on research at the Uppsala University. Today, the company is considered to be one of Sweden's most promising high-tech companies and has its own development, manufacturing and testing facility. PiezoMotor AB is privately held and financially backed by well-known and highly respected Swedish, German and American industrial investors.
PiezoMotor products are just one of many custom motion solutions offered by MICROMO to North American manufacturers across a wide range of industries.
Featured Product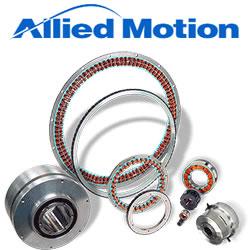 Allied Motion's Megaflux MFH170i series of 170 mm (6.7 in) diameter housed brushless torque motors consists of a high performance brushless DC torque motor, a digital servo drive, and an optical encoder, all integrated into a rugged machined aluminum housing with robust duplex bearings. The MFH0170i series features a 63.5 mm (2.5 in) large-bore through shaft, and is characterized by a very high torque-to-inertia ratio. There are three stack lengths in the series with peak torque ranging from 8.5 up to 16.9 Nm (75 up to 150 lb-in). The standard winding voltage is 48 V. And to ease the hassle of long leadtimes for prototypes, the new MFH170i is now available through our QuickShip program.