New Safety Standard is Focus of October 14-16 Event
(Ann Arbor, Michigan - July 16, 2013) The Robotic Industries Association (RIA) is hosting its 25th National Robot Safety Conference October 14-16, 2013 at the Marriott East Hotel in Indianapolis, IN. The Conference focuses on the new American National Robot Safety Standard (ANSI/RIA R15.06-2012), the first update to the standard since 1999.

Developed by RIA, the new standard is now harmonized with the International ISO 10218:2011 standard for robot manufacturers and integrators.
Key issues to be addressed include risk assessment, machine safety controls, practical industrial robot safety, robot user case studies, and a primer on functional safety. "As robots are being used in a growing number of applications and industries, it is extremely important to emphasize safety issues," Burnstein explained. "This Conference is the world's leading robotics safety event and has been for the past quarter-century."
A special exhibitor expo featuring leading robot safety products will be held on October 15. "This is a great opportunity for attendees to see the latest safeguarding products and talk to experts about their specific needs," Burnstein said.
Registration is now open, with early bird savings available before September 12. For more information, please visit www.robotics.org/safety13, call RIA headquarters at 734-994-6088 or email ria@robotics.org.
About RIA
Founded in 1974, RIA's organizations include leading robot manufacturers, component suppliers, system integrators, end users, community colleges & universities, research groups, and consulting firms. RIA is best-known for developing the ANSI/RIA National Robot Safety Standard, collecting quarterly statistics on the North American robotics market, sponsoring the biennial Automate show and conference (March 23-26, 2015 in Chicago), hosting the annual Robotics Industry Forum (January 22-24, 2014 in Orlando), and producing Robotics Online, the world's leading resource for robotics information.
RIA is part of the Association for Advancing Automation (A3), the not-for-profit umbrella association serving RIA, AIA - Advancing Vision + Imaging, and the Motion Control Association (MCA). For more information on RIA, contact RIA Headquarters at 734-994-6088 or visit Robotics Online.
Featured Product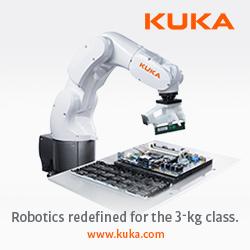 Great advances often start with small steps - in manufacturing cells measuring only 600 × 600 mm. Here, the KR 3 AGILUS is in its element. Particularly in the case of small parts and products which must be produced in a minimum of space. KUKA expertise, concentrated into the smallest of spaces, is setting new standards for the 3-kg class. The lightweight robot masters various tasks with agility, dynamism and maximum precision, leading to high flexibility in production - even when it comes to extremely narrow spaces.