Automation is at the core of the U.S. market's rising competitive advantage. American manufacturing is re-shoring and leveraging automation and supply chain innovations to compete globally. Observe automation technology in action and see why ATX Midwest is crucial to keeping pace with changing needs, meeting new customers, and engaging in valuable thought-leadership conversations.
With a reach encompassing the power players in the Midwest region, ATX Midwest provides a sourcing platform for companies in Illinois, Wisconsin, Michigan, Indiana, Ohio, and Iowa. Expecting a predicted 5% increase on average per year for robotic sales between 2013-2015, automation continues to lead the way to increased productivity and reduced costs. Decision makers from 2,701 company facilities conducted 27,666 project development meetings with 415 exhibiting companies during the 2012 co-located event in Chicago.

A new area in ATX Midwest, PackZone, will feature your packaging solutions in an ideal location on the ATX show floor with increased exposure and attendee traffic. Also, the New Advanced Manufacturing Seminars feature shorter modules, allowing attendees to split their day between sessions and show floor activities.
With the return of PLASTEC Midwest & Quality Expo this year, along with the other co-located events, MD&M Chicago and Design & Manufacturing Midwest, expect a larger crossover audience and more potential prospects.
About UBM Canon
UBM Canon is the leading producer of face-to-face trade events and media brands that support the flow of information, commerce, and innovation in the world's $3 trillion advanced technology-based manufacturing sector, including co-located events in Anaheim, CA; Philadelphia, PA; Chicago, IL; Orlando, FL; Charlotte, NC; Dallas/Fort Worth, TX; Houston, TX; Boston, MA; Minneapolis, MN; Toronto, ON; and Montreal, QC. UBM Canon's extensive manufacturing portfolio includes events for medical design and manufacturing, packaging, process technology, design engineering, assembly and automation technology, plastics processing, quality assurance, and electronics. UBM Canon's signature strategic co-location of these events has resulted in the largest design and manufacturing events in the United States.
Featured Product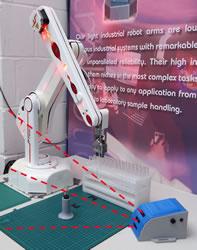 ST Robotics have decades of experience in industrial robots having sold hundreds of robots over the years. The company has 3 main models, R12, R17 and R19 all using a unique simple industrial technology that dramatically reduces costs resulting in the lowest priced industrial robots available. The same uncomplicated technology vastly improves reliability. ST backs this up with a 2 year warranty. Typical applications are routine testing, sample handling and also education. The software is a different paradigm from most robots. It is command based; you type a command and see immediate action. Programming is a building block approach, building confidence as you program in small 'mind-sized bytes'. ST offers free unlimited technical support.