30% Increase in Productivity Reported by Hospital Laboratories and Independent Commerical Laboratories
PLEASANTON, Calif., July 25, 2013 -- Adept Technology, Inc.

(Nasdaq:ADEP), a leading provider of intelligent robots and autonomous
mobile solutions and services, today announced that it has delivered a new
generation of RoboCourierTM to Swisslog Healthcare Solutions (HCS) for use
in hospitals, clinical laboratories and pharmacies for the transport of
specimens, medications and supplies.
Swisslog's RoboCouriers have been in operation in hospitals and commercial
laboratories across North America for over three years. Hospitals realize
the benefit of using the RoboCourier because it fits well into Lean process
and quality improvements such as: reduced time spent walking, improved flow
and minimized distractions, thus allowing staff to focus on patient-care
tasks. Ultimately, RoboCourier helps hospitals reduce operational costs by
increasing efficiency, improving workflow, and maximizing operational
capacity.
"The new generation of RoboCourier offers several new features making it an
even stronger fit for the industry," states Sandy Agnos, Swisslog's
Autonomous Mobile Robot (AMR) Product Manager. "It is available both in an
open multiple-shelf version and in a closed, secure version. Options include
door and elevator interface and call buttons, which enable the vehicle to
self-navigate from area to area and floor to floor. Because it is built
upon Adept's new LynxTM platform, battery life has a 3X improvement and
navigation has been optimized to meet increasingly demanding requirements of
the environment."
"We are extremely pleased with our joint collaboration on the development of
the next generation of the RoboCourier," states Larry Anderson, Adept vice
president of Mobile. "Through partnerships like these we are able to help
our customers realize significant operational efficiencies and improved
capacity."
RoboCourier will be on display at the Swisslog booth 4408 at the AACC
Clinical Lab Expo in Houston TX, July 28 through August 1.
About Adept Technology, Inc.
Adept is a global, leading provider of intelligent robots and autonomous
mobile solutions and services that enable customers to achieve precision,
speed, quality and productivity in their assembly, handling, packaging,
testing, and logistical processes. With a comprehensive portfolio of
high-performance motion controllers, application development software,
vision-guidance technology and high-reliability robot mechanisms with
autonomous capabilities, Adept provides specialized, cost-effective robotics
systems and services to high-growth markets including Packaging, Medical,
Disk Drive/Electronics, and Solar; as well as to traditional industrial
markets including machine tool automation and automotive components. More
information is available at
http://trk.cp20.com/Tracking/t.c?5qk55-98uqf-8w3whi9&_v=2
About Swisslog
Swisslog Healthcare Solutions is the leading supplier of logistics
automation solutions for healthcare facilities. Swisslog has installed
automated materials transport and medication management systems in more than
3,000 hospitals around the world, including more than 2,000 in North
America. Swisslog offers total systems design, manufacturing, installation
and customer support providing a complete supply chain management approach
to the logistics challenges of hospitals. The North American division of
Swisslog Healthcare Solutions is based in Denver, Colo. Additional
information is available at
http://trk.cp20.com/Tracking/t.c?5qk55-98uqg-8w3whi0&_v=2
Featured Product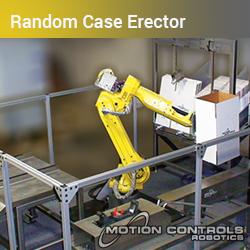 Random Case Erectors are ideal for fulfillment centers and other end-of-line packaging needs. Save money by eliminating changeover downtime. Reduce ergonomic injuries by eliminating repetitive manual tasks. The Random Robotic Case Erector System includes: • FANUC M20iA/20 Robot • Combi gravity case magazine - holds 2 box sizes • Combi bottom flap folder with integrated 3M case sealing head. • Fixed robot base, anchored to the floor • Flexible end of arm tool to pick and erect multiple case sizes to eliminate changeover downtime • System wiring and controls • Color 7.5" touchscreen HMI display for selecting case size • Perimeter guarding with safety interlocks on doors • Programming for Robot, PLC/PMC, HMI and Vision • Complete documentation in electronic format • On-site training and support • Compliance with all applicable robotic safety standards. Alternate safety configuration may be available to allow an operator to changeover a case size in one magazine while the robot continues to work in other magazines. Contact Motion Controls Robotics to learn more about how to implement this system into your current end-of-line operations.