"The completion of this significant milestone is a great achievement for our Knifefish team"
FAIRFAX, Va., Aug. 6, 2013 -- General Dynamics Advanced Information Systems, a business unit of General Dynamics (NYSE: GD), has successfully completed the comprehensive risk reduction program for the U.S. Navy's Knifefish Surface Mine Countermeasure Unmanned Undersea Vehicle (UUV) program. Designed to discover any potential systems defect early on in the program's development phase, the configuration item test (CIT) successfully verified key components within the UUV system including the hardware architecture and critical areas of hardware and software integration.

"The completion of this significant milestone is a great achievement for our Knifefish team," said Thomas Kirchmaier, president of General Dynamics Advanced Information Systems. "As an essential component of the Navy's surface-ship mine countermeasure mission packages, Knifefish will help meet the constantly-evolving requirements of today's fleet and greatly reduce risk to Navy personnel and ships."
The test program included subsystem tests of key payload components (high-fidelity SONAR and ultra-high-density data storage/recording), key propulsion components (quieter, more powerful propulsion) and key software interface elements. By performing the CIT effort at this phase of the Knifefish program, the team can identify critical elements that could be detrimental to the delivery and operational availability of the Knifefish program if left to the later program phases.
"Overcoming unique size, weight and power challenges are keystones to the successful deployment of the Navy's Knifefish program," said Tom Mason, senior program manager of General Dynamics Advanced Information Systems. "Completing these early discovery programs is critical for meeting the program's schedule and cost requirements."
Knifefish will be a critical part of the Navy's Littoral Combat Ship mine warfare mission package, providing the fleet mine warfare commander and sailors with enhanced mine-hunting capabilities. Scheduled for operations beginning in 2017, Knifefish will reduce risk to personnel by operating in the minefield as an off-board sensor while the host ship stays outside the minefield boundaries. The Knifefish system will include two UUVs, in addition to launch and recovery equipment, a support container, spare parts and support equipment.
The U.S. Navy's Naval Sea Systems Command (NAVSEA) awarded General Dynamics Advanced Information Systems a contract to design and build Knifefish in September 2011. The General Dynamics Advanced Information Systems team on the Knifefish program includes Bluefin Robotics (Quincy, Mass.), Ultra Electronic Ocean Systems (Braintree, Mass.), Oceaneering International, Inc. (Houston, Texas), Metron (Reston, Va.), Applied Research Laboratory at Penn State University (State College, Pa.), 3 Phoenix (Hanover, Md.), General Dynamics Information Technology (Fairfax, Va.) and ASRC Research Technology Solutions (Greenbelt, Md.).
For more information about General Dynamics Advanced Information Systems, please visit www.gd-ais.com.
More information about General Dynamics is available online at www.generaldynamics.com.
Featured Product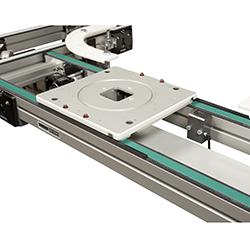 Dorner's 2200 Series Precision Move Pallet Systems feature the latest advancements in pallet traffic management. A unique pin tracking system guides pallets through merges and curves while maintaining product orientation. The fast belt change capability increases efficiency and reduces downtime in assembly automation processes. They are available in lengths up to 25 ft., can handle loads up to 500 lbs. and travel at speeds up to 114 ft/min.