Circuit Solutions International has announced that All Flex Flexible Circuits and Printed Circuits, Inc. are featured exhibitors at the upcoming 2013 AUVSI Unmanned Systems Symposium, which will be held at the Walter Washington Convention Center in Washington, D.C., August 12-15, 2013.

The role of the UAV is growing at an unprecedented rate. Rapid advances in technology are enabling more and more capability to be placed on smaller airframes. These advances are spurring a large increase in the number of UAVs deployed both on the battlefield and for domestic missions across multiple law enforcement and commercial sectors.
At AUVSI, attendees can explore the latest technology in the market from more than 600 innovating companies. The expansive exhibit hall will showcase the latest technology in unmanned systems, with live air, ground and maritime demonstrations and miniaturized systems in action on the show floor
In addition to Intelligence, Surveillance and Reconnaissance (ISR) missions, the role of the UAV has expanded to include areas of Electronic Attack (EA), strike missions, suppression/destruction of enemy air defense, network node, communication relay, and Combat Search and Rescue (CSAR).
The AUVSI 2013 Symposium will feature the latest innovations in these incredible systems and the role of flexible and rigid-flex circuitry in advanced military/aerospace and commercial UAV systems.
Bob Burns and Matt Tannehill of Printed Circuits, Inc. (booth #2049), and Dave Becker of All Flex (booth #2455) will be joined by Mike Brown of Interconnect Design Solutions and John Vaughan of Circuit Solutions International to showcase and review manufactured samples of their technology applications and to discuss some of the most challenging circuitry requirements in this industry.
Featured Product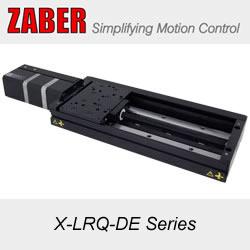 Zaber's new and improved stage (X-BLQ-E) is a closed-loop, belt-driven motorized linear stage with built-in motor encoder and controller. With travel lengths up to 3 m, 10 µm repeatability, and a maximum speed of 2.0 m/s, X-BLQ-E stages are perfect for rapid positioning over large distances. A built-in motor encoder allows closed-loop operation and slip/stall recovery, and an optional indexed knob provides manual control for operation without a computer. Like all Zaber products, the X-BLQ-E Series is designed for easy set-up and operation.