Aug. 12-15 at the Walter E. Washington Convention Center
FALLS CHURCH, Va., Aug. 5, 2013 -- Northrop Grumman (NYSE:NOC) will host a series of media briefings Aug. 13-14 on the company's leading unmanned systems technologies during the world's largest unmanned systems and robotics exhibition in Washington, D.C.

The Association for Unmanned Vehicle Systems International (AUVSI) Unmanned Systems 2013 exhibition and symposium takes place Aug. 12-15 at the Walter E. Washington Convention Center. Northrop Grumman is displaying a number of unmanned systems and supporting equipment at booth 1823 in the main exhibit hall.
Information about the company's presence at AUVSI can be found at www.northropgrumman.com/auvsi.
A series of videos focusing on Northrop Grumman's expertise in unmanned systems will air on the company's Facebook, Twitter and YouTube pages during the event. Announcements on the release of these videos and other information from the company can be seen by searching for the #NorthropGrumman hashtag on Twitter.
Live online streaming of the media briefings will also be available to reporters who cannot attend. To obtain instructions on how to view these briefings, send your name and media organization to Warren Comer at warren.comer@ngc.com.
What: Northrop Grumman media briefings
When: Aug. 13-14 (See specific times and contacts in table below.)
Where: Salon F, Walter E. Washington Convention Center, Washington, D.C.
Featured Product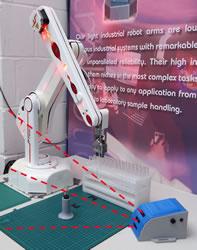 The 6-axis version of the R17HS high speed variant of the R17 robot is now available. As is our policy the 6th axis is an optional bolt-on module. At the same time we have made it even faster and new software eliminates shake and greatly improves repeatability as this video shows. Please see https://www.youtube.com/watch?v=3wG0MeiJ-yE. The video would seem to imply a repeatability of 0.01mm but we are sticking with 0.2mm in the spec. The motor specialist was able to tune the motors from the other side of the pond. My first reaction when we put power on and entered the first commands was to jump back in amazement (and maybe an expletive). Tip speed is now 3m/s; that's 3 times as fast as its nearest competitor yet costs half the price. I love it when a plan comes together.