November 18 to 21 at the McCormick Place in Chicago
WINDSOR, Ontario. July 10, 2013 - Tregaskiss will attend FABTECH 2013, November 18 to 21 at the McCormick Place in Chicago, sharing booth N836 with Bernard and TOUGH GUN TT3 Reamer from TregaskissMiller Electric Mfg. Co. There, it will display its latest robotic MIG guns, consumables and peripherals designed to maximize productivity and quality in the automotive, heavy equipment, fabrication and manufacturing industries.

Included in the new products on display will be the TOUGH GUN™ TT3 Reamer. This new reamer offers features that simplify maintenance and increase the product's reliability in even the harshest welding environments. The TOUGH GUN TT3 Reamer also helps extend the life of robotic MIG guns and consumables to increase productivity and profitability.
Also of interest at the booth will be an interactive display of the Tregaskiss online robotic MIG gun configurators. These configurators allow users to customize a TOUGH GUN™ G1 Series MIG Gun, a TOUGH GUN ThruArm™ G1 Series Robotic MIG Gun, or a TOUGH GUN Robotic Water-Cooled MIG Gun according to robot model, gun mount, consumable type and more. Visitors to the booth can try the configurators first hand, and consult with Tregaskiss experts regarding questions about the configurators or about products.
Featured Product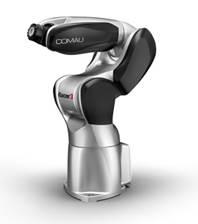 Racer3 is a powerful, high-speed, 6-axis articulated robot featuring a payload of 3kg and a reach of just 630 mm. Built from high-strength aluminum, the newest innovation in Comau robotics is lightweight and can be easily mounted on benches, walls, ceilings or on inclined supports. The third robot within the award-winning Racer family, Racer3 is Comau's response to the growing demand for fast, cost-effective robotic automation within small to medium-sized enterprises and emerging countries. Racer3 is intended for general industry use to increase productivity and reduce overall costs by automating industrial applications. It combines field-proven technology and enhanced dexterity with a keen focus on safety, design and product aesthetics. With a streamlined design and brushed metal exterior, the new powerhouse of a robot combines beauty and speed together with absolute precision and repeatability. Primary applications include assembly, material handling, machine tending, dispensing and pick & place.