Aug. 12-15 in Washington, D.C
BINGEN, Wash., Aug. 12, 2013 -- Insitu announced today that it will demonstrate the Insitu Common Open-mission Management Command and Control (ICOMC2) ground control station at the Association for Unmanned Vehicles Systems International (AUVSI) Unmanned event, Aug. 12-15 in Washington, D.C.

ICOMC2 is designed for expeditionary use and lets one operator manage multiple unmanned vehicles. Its open-architecture system scales to operate with systems as small as a soldier-worn device up to interfacing with operational level C2 systems that provide information on integrated displays from large screens. The core features a software development kit, enabling operators to customize their systems with plug-ins and new applications.
"ICOMC2 is a proven system," said Senior Vice President Insitu Programs Ryan Hartman. "The system has been refined through more than 700,000 flight hours and is currently supporting both land and maritime missions globally."
The system increases situational awareness with its augmented video overlay systems, allowing operators to overlay video with data such as terrain elevation, satellite data, target identification, border information and acoustic detectability in a single picture.
"ICOMC2 is another example of Insitu developing industry-leading technology that supports our customers' needs," said Hartman.
Members of the Insitu team will demonstrate ICOMC2 in booth 2513 at AUVSI. Insitu will also host a press conference at 1 p.m. on Tues., Aug. 13 in Salon B of the Walter E. Washington Convention Center to discuss the system and introduce its current partners - Airware, Analytical Graphics, Inc. (AGI), Boeing Robotics Engineering Excellence (RE2, Inc.), Esri and 2d3 Sensing.
Insitu Inc., located in Bingen, Wash., is a wholly owned subsidiary of The Boeing Company. Insitu designs, develops and manufactures UAS and provides associated services for commercial, civil and defense applications. With a small footprint and customer focus for both land and sea operations, the company's family of UAS solutions and global mission support serves the needs of worldwide customers. To date, these systems have accumulated more than 730,000 flight hours and 88,000 sorties. For more information, visit www.insitu.com.
Featured Product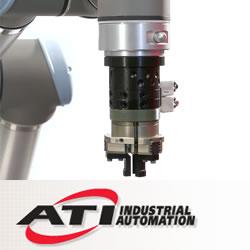 The ATI Robotic Tool Changer provides the flexibility to automatically change end-effectors or other peripheral tooling. These tool changers are designed to function reliably for millions of cycles at rated load while maintaining extremely high repeatability. For this reason, the ATI Tool Changer has become the number-one tool changer of choice around the world. ATI Tool Changer models cover a wide range of applications, from very small payloads to heavy payload applications requiring significantly large moment capacity.