(AUVSI) Trade Show in Washington, D.C. on August 12-15th 2013
WASHINGTON, Aug. 12, 2013 -- Kutta Technologies, Inc. will unveil three new Unmanned Aircraft System (UAS) Command and Control (C2) products at the upcoming Association for Unmanned Vehicle Systems International (AUVSI) tradeshow in Washington, D.C. on August 12-15th. "Our UAS Control Segment (UCS)-compliant Bi-Directional Remote Video Terminal (BDRVT®) made headlines recently with the successful flight test of the U.S. Army's Shadow UAS, and our advanced research group has also been working on other products that leverage the Office of the Secretary of Defense's (OSD's) UCS open-architecture," said Douglas Limbaugh, Kutta's CEO.

Kutta's AUVSI booth will display the UCS-BDRVT® as well as a STANAG Level 5 handheld Ground Control Station (GCS) and a lightweight MILSPEC computer - The KRC-100. When the UGCS-400 is coupled with the KRC-100, the result is a full MILSPEC, STANAG Level 5 GCS for small UASs, weighing less than 15 pounds including radio and battery. The UGCS-400 still contains all the features of the previous UGCS, including supervised usage mode, but it is now lighter, faster, and more efficient.
Leveraging the power of OSD's UCS open-architecture, the UGCS-400 can be scaled from a handheld GCS to a larger mobile or fixed site system capable of controlling multiple unmanned vehicles. "To our knowledge, this is the smallest, lightest, and most feature-rich Level 5 GCS on the market that fully supports OSD's open architecture model," said David Barnhard, Kutta's Director of Business Development.
Kutta's products will be on display at the Association for Unmanned Vehicle Systems International (AUVSI) Trade Show in Washington, D.C. on August 12-15th 2013. Kutta can be reached in booth #2125 during daily exhibit hours of the show.
Kutta Technologies, Inc. is based in Phoenix, AZ and is a leading developer of high reliability mission-critical software and systems for the aerospace industry. For more information please visit http://www.KuttaTech.com or call 1-866-574-9990.
Featured Product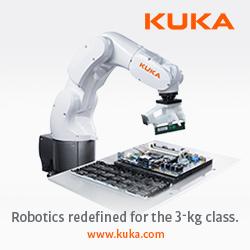 Great advances often start with small steps - in manufacturing cells measuring only 600 × 600 mm. Here, the KR 3 AGILUS is in its element. Particularly in the case of small parts and products which must be produced in a minimum of space. KUKA expertise, concentrated into the smallest of spaces, is setting new standards for the 3-kg class. The lightweight robot masters various tasks with agility, dynamism and maximum precision, leading to high flexibility in production - even when it comes to extremely narrow spaces.