The drug-busting, drone-launching Stiletto goes unmanned as the Mistral USV, a smaller sized craft with the same great stability, payload and patented M-hull Technology® of its predecessor combined with state-of-the-art C2 control and modular cargo handling system.
San Diego, CA August 13, 2013

The Mistral USV is more than just an Intelligence, Surveillance and Reconnaissance (ISR) sentry, it's a modular unmanned "naval truck" designed specifically for hauling and towing large payloads with a simple, user-friendly control interface.
The Command & Control (C2) system uses a self-tuning autopilot designed to simplify operations with autonomous features for coordinated operations, fail-safe scenarios and pre-programmed objectives.
The Mistral's unique double M-hull shape is optimized specifically for unmanned missions providing unparalleled stability and tracking for remote operations. The hull form allows for larger payloads while reducing pitching motions by half and significantly damping unwanted forces in sensor tow lines.
The Mistral's extra wide cargo bay area is designed to carry large modular sensor packages, passengers and/or equipment on standard 463L pallets or ISU60 containers. The USV can be operated as a manned or unmanned craft and is designed for landing in a well deck of a larger mothership without the need of a trailer.
Bill Burns, Executive Director at MSHIPCO, believes that "the simple-to-use Mistral USV will accelerate adoption of unmanned technologies by the marine industry for a wide range of new military, commercial and even recreational applications."
MSHIPCO, LLC, developer of the Stiletto Maritime Platform, is quickly becoming an industry leader for integrating unmanned systems into marine platforms. The MSHIPCO team includes former military operators and engineers with extensive "hands-on" experience, as well as industry specialists in the areas of design, research, testing and operations.
The MSHIPCO team will be participating in the AUVSI's Unmanned Systems 2013 Conference (August 12-15) in Washington DC and be available for questions. In addition, they will have literature handouts in the AUVSI hospitality area.
Featured Product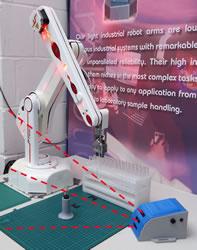 The 6-axis version of the R17HS high speed variant of the R17 robot is now available. As is our policy the 6th axis is an optional bolt-on module. At the same time we have made it even faster and new software eliminates shake and greatly improves repeatability as this video shows. Please see https://www.youtube.com/watch?v=3wG0MeiJ-yE. The video would seem to imply a repeatability of 0.01mm but we are sticking with 0.2mm in the spec. The motor specialist was able to tune the motors from the other side of the pond. My first reaction when we put power on and entered the first commands was to jump back in amazement (and maybe an expletive). Tip speed is now 3m/s; that's 3 times as fast as its nearest competitor yet costs half the price. I love it when a plan comes together.