Manufacturers and leading suppliers in the Tier 1 and OEM categories all around the world now utilize Stäubli robots.
DUNCAN, SC - Over recent years, Stäubli Robotics has established a reputation as a reliable partner of the automotive industry.

Manufacturers and leading suppliers in the Tier 1 and OEM categories all around the world now utilize Stäubli robots. TS series SCARA robots, the six-axis RX and TX models as well as numerous special kinematic machines are deployed wherever the emphasis is on realizing exceptionally innovative solutions: for example, applications that can only be managed with top-class robots, or tasks where the utmost precision and speed are the decisive criteria and where the processes can only be reliably accomplished using Stäubli robots with their superior drive technology.
Whether the job involves the high-precision measurement that is vital in car body manufacture, the precise machining of lightweight materials, the coating of headlight lenses or the mass production of parking distance sensors, brake light switches and the like, in these and so many other applications, Stäubli robots have set the benchmark for optimum performance, quality and reliability under the harshest industrial conditions. Measuring and testing, joining and assembly, handling and processing, sealing and bonding, as well as various special individual applications, are typical of the range of processes carried out by these precision machines in the automotive industry.
Stäubli will be showcasing the latest in robot and toolchanger technology at Fabtech 2013: North America's largest metal forming, fabricating, welding, and finishing event. Be sure to stop by Booth N2673 at Fabtech 2013 in Chicago, Illinois, November 18-21, 2013. Learn more about the event at www.fabtechexpo.com.
About Stäubli:
Stäubli is a mechatronics solutions provider with three dedicated divisions: Textile Machinery, Connectors and Robotics. With a workforce of 4000, Stäubli has a presence in 25 countries and agents in 50 countries around the world.
Featured Product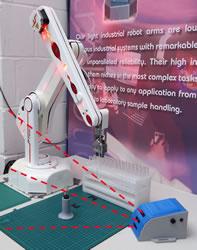 ST Robotics have decades of experience in industrial robots having sold hundreds of robots over the years. The company has 3 main models, R12, R17 and R19 all using a unique simple industrial technology that dramatically reduces costs resulting in the lowest priced industrial robots available. The same uncomplicated technology vastly improves reliability. ST backs this up with a 2 year warranty. Typical applications are routine testing, sample handling and also education. The software is a different paradigm from most robots. It is command based; you type a command and see immediate action. Programming is a building block approach, building confidence as you program in small 'mind-sized bytes'. ST offers free unlimited technical support.