"cyber® dynamic line" is the name of a new miniature motor family in an attractive, elegant design that enlarges the WITTENSTEIN cyber® motor portfolio of powerful synchronous motors.
Bartlett, IL August 15, 2013

This synchronous motor series creates multiple new opportunities for machine design with a set of advanced and innovative features. Amongst other things, the cyber® dynamic line is ideal for applications involving high acceleration or short motions with frequent changes of speed, as is typically the case with pick & place systems.
Thanks to the cyber® dynamic line's high dynamic factor, which is unmatched in this size class, the machines in which these motors are installed achieve higher throughputs and cycle rates. The excellent ratio of high torques to low motor weight means there is less mass to be accelerated and stopped in moving axes - machine throughput is raised still further. The optimized torque / weight ratio of the cyber® dynamic line and the high efficiency resulting from its optimal use of energy are moreover ideal for battery powered and mobile devices because the operating cycles between two charging processes are now considerably longer - with positive repercussions for availability.
The high torque constant is another advantage of all cyber® dynamic motors. It paves the way for smaller cable cross-sections and more compact servo controllers - saving space, weight and money. The high torque at low speeds not only gives these brushless DC motors a higher degree of control stiffness; it also makes them quieter and more durable, so that they can also be used as direct drives.
The motors are offered in four sizes with a 17, 22, 32 or 40 mm diameter and are suitable for performance ranges between 25 and 335 watts. All cyber® dynamic motors unite the compact, robust standard encoder type with 1024 increments and an open BiSS interface in a rugged, one-piece stainless steel housing with easy-to-clean surfaces. They feature a plug connector at the rear, which avoids the huge costs that are often incurred in the event of a fault if they are connected with a cable end. There is no longer any need to replace the whole motor if the cable is damaged and a motor failure does not automatically mean rewiring.
WITTENSTEIN has provided custom servo motor solutions in North America for over 15 years. Our growth has led to the launch the newly established WITTENSTEIN cyber® motor business unit. We are driven by the mission to ensure precise solutions for Semi-Conductor, Printing, Energy, Automation, Packaging and other industries.
Customized motors and drives from WITTENSTEIN are compact and reliable, providing highly precise and highly dynamic motion control.
Our team of expert consultants can help with your application needs for high performance, high power density and lowest torque ripple.
Clean room certified products from WITTENSTEIN provide durable electromechanical solutions for the most demanding environmental conditions including ultra-high vacuum and extreme temperatures.
Featured Product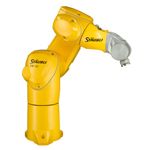 Stäubli offers a complete range of robotic tool changing systems for payloads of 20 kg to 1,530 kg and torsion moments from 30 to 12,500 Nm, designed for use in virtually every industry. The tool changers adapt to customer-specific applications with different modules for media, data, power, etc. The new MPS 130 robotic tool changer is powerful, very robust, and designed for a huge range of applications. It features multiple couplings for air/vacuum connections, and can be equipped with connectors for data and electrical transmission. Very compact dimensions, with a coupled height of only 67 mm, make the MPS 130 the first choice for applications requiring a high number of mating cycles.