Two Smart Cameras. The Most Versatile Hardware in the Industry.
Datalogic, a global leader in Automatic Data Capture and Industrial Automation, is pleased to announce the introduction of the A30 and T4x Series, a new generation of smart cameras for Machine Vision, revolutionizing inspection applications for the Pharmaceutical and Food & Beverage industries.

Two Smart Cameras. The Most Versatile Hardware in the Industry.
The A30 and T4x Series are fully embedded smart cameras that combine high quality CCD imagers with exceptionally fast DSP processors for superior performance.
The A30 is a general purpose and economical smart camera, featuring a VGA (640x480) CCD imager, built-in discrete I/Os as well as Gbit Ethernet and Serial interfaces. With IP67-rated housing, the A30 is the ideal solution for the harsh industrial environments found in the most challenging manufacturing applications.
The T4x Series smart cameras provide best-in-class performance in an industrialized and compact package. Equipped with a powerful 1.1GHz processor, the T4x Series offers three different camera resolutions (VGA, 2Mpix, 5Mpix) all available in a sealed, full metal IP-67 rated enclosure.
Powered by Award-Winning Software.
The rugged, versatile hardware is combined with the programming flexibility of Datalogic's IMPACT Software Suite. Both the A30 and T4x Series cameras are supported by the latest release of the IMPACT Software, featuring a Vision Program Manager (VPM) for application development and a Control Panel Manger (CPM) for customizable operator interfaces.
"As leaders in industrial automation, Datalogic prides itself on understanding the nuanced needs of our customers and providing innovative solutions to meet them. The purpose-built A30 and T4x smart cameras solve next generation problems for the most demanding inspection applications in industries like Pharmaceutical and Food & Beverage," said Machine Vision General Manager Donato Montanari.
Featured Product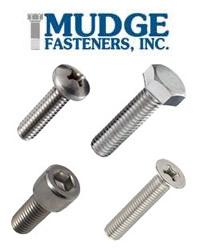 From very small to very large fasteners, in a wide array of materials and platings from stainless steel to cadmium to silver, Mudge Fasteners is a one-stop shop for all Robotics screws, bolts, nuts, washers, inserts, adhesives and more. With over 60,000 products in stock, Mudge also offers custom kitting and packaging, documentation support, specials manufactured to print, performance mockups, fabrication and production consulting.