Flexible robotic palletizing and variety pack solutions meet mixed-SKU fulfillment requirements
(LAS VEGAS: Sept. 23, 2013)-Intelligrated® (www.intelligrated.com), a North American-based automated material handling solutions provider, introduces two new capabilities to its range of mixed-load automated order fulfillment solutions at PACK EXPO Las Vegas 2013. Intelligrated's mixed-load palletizing and variety pack solutions utilize advanced robotics and software technology to automate the creation of mixed-SKU pallet loads, retail-ready displays and variety pack cases. Both solutions integrate with other automated system components including software, conveyor, sortation and order picking systems. Intelligrated's booth (#2036) features an interactive robotic mixed-load palletizing display and variety pack video demonstration.

Intelligrated's Alvey® robotic mixed-load palletizing solution utilizes configurable end-of-arm tooling, software and controls to handle multiple product types. These features enable manufacturers and distributors to replace manual handling processes with the efficiency, accuracy and cost-saving benefits of automation.
The two order fulfillment enabling technologies showcased in the Intelligrated booth can integrate with the rest of the company's material handling components including software, conveyor, sortation and order picking systems to streamline operations in manufacturing, warehousing and distribution.
Intelligrated's scalable variety pack order fulfillment solution utilizes flexible end-of-arm tooling to automate tasks such as case packing and unpacking, depalletizing and product singulation. This allows retailers to accommodate consumer preferences for variety packs of foods, beverages or household goods with an effective single-source automated material handling system.
"Intelligrated's latest advancements in robotic integration, end-of-arm tooling and software controls bring the benefits of automation to more complex order processes," said Ted Clucas, senior vice president, manufacturing systems, Intelligrated. "Our newest mixed-load and variety pack robotic solutions help our customers satisfy retail and consumer demands reliably and efficiently."
To learn more, visit Intelligrated in booth #2036 at PACK EXPO Las Vegas 2013, Sept. 23-25 at the Las Vegas Convention Center.
For sales and marketing information, contact Emily Smith, marketing supervisor, Intelligrated, by phone at 513.881.5239 or by email at emily.smith@intelligrated.com.
For media information, contact Natalie Fioto, public relations, Koroberi, by phone at 919.945.0566 or by email at natalie@koroberi.com.
Featured Product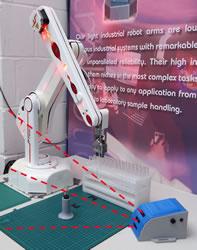 ST Robotics have decades of experience in industrial robots having sold hundreds of robots over the years. The company has 3 main models, R12, R17 and R19 all using a unique simple industrial technology that dramatically reduces costs resulting in the lowest priced industrial robots available. The same uncomplicated technology vastly improves reliability. ST backs this up with a 2 year warranty. Typical applications are routine testing, sample handling and also education. The software is a different paradigm from most robots. It is command based; you type a command and see immediate action. Programming is a building block approach, building confidence as you program in small 'mind-sized bytes'. ST offers free unlimited technical support.