Reducing installation time from four weeks to just four days
FANUC Robotics America is committed to cutting business costs. One way of achieving that objective is to eliminate time required for field installation of the company's painting robots used extensively within automotive and numerous other manufacturing facilities. Remarkably, they have done so in dramatic fashion, reducing installation time from four weeks to just four days!

A key to this success has been the use of Roxtec cable seals. These seals minimize the risk of field installation failure, protect the equipment, and improve the robot life cycle.
Randall Schroeder, Manager of Controls Engineering & Product Operations at the Paint Shop Automation Group of FANUC Robotics explains that reduction of installation time is made possible because a large number of cable glands and cord grips can be replaced with just a few easy-to-use Roxtec seals.
Roxtec seals further meet the demands of FANUC's customers for speed and efficiency by eliminating the need for reworks in the field. Because pressurized paint robots must be gas-tight, cable seal reliability, made possible by Roxtec, protects entire systems.
Each component is approved for hazardous areas and contributes to nonstop operations. Roxtec seals secure operational reliability in motors and controls and help ensuring overall cost-efficiency.
Suppliers to FANUC Robotics have also discovered the benefits of Roxtec sealing solutions. EDSI, Engineering Design Services Inc., manufacturers of the main control enclosures for FANUC painting robots, use the Roxtec EZEntryTM cable entry seal on top of enclosures to simplify cable routing, enabling EDSI to deliver cabinets and enclosures that remain tight, look clean, and withstand the washing of the paint booth.
Featured Product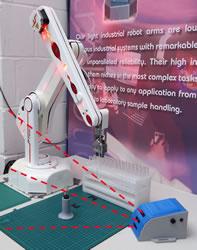 ST Robotics have decades of experience in industrial robots having sold hundreds of robots over the years. The company has 3 main models, R12, R17 and R19 all using a unique simple industrial technology that dramatically reduces costs resulting in the lowest priced industrial robots available. The same uncomplicated technology vastly improves reliability. ST backs this up with a 2 year warranty. Typical applications are routine testing, sample handling and also education. The software is a different paradigm from most robots. It is command based; you type a command and see immediate action. Programming is a building block approach, building confidence as you program in small 'mind-sized bytes'. ST offers free unlimited technical support.