Flexible robotic palletizing and variety pack solutions meet mixed-SKU fulfillment requirements
Intelligrated®, a North American-based automated material handling solutions provider, introduces two new capabilities to its range of mixed-load automated order fulfillment solutions at PACK EXPO Las Vegas 2013. Intelligrated's mixed-load palletizing and variety pack solutions utilize advanced robotics and software technology to automate the creation of mixed-SKU pallet loads, retail-ready displays and variety pack cases. Both solutions integrate with other automated system components including software, conveyor, sortation and order picking systems. Intelligrated's booth (#2036) features an interactive robotic mixed-load palletizing display and variety pack video demonstration.

Intelligrated's Alvey® robotic mixed-load palletizing solution utilizes configurable end-of-arm tooling, software and controls to handle multiple product types. These features enable manufacturers and distributors to replace manual handling processes with the efficiency, accuracy and cost-saving benefits of automation.
The two order fulfillment enabling technologies showcased in the Intelligrated booth can integrate with the rest of the company's material handling components including software, conveyor, sortation and order picking systems to streamline operations in manufacturing, warehousing and distribution.
Intelligrated's scalable variety pack order fulfillment solution utilizes flexible end-of-arm tooling to automate tasks such as case packing and unpacking, depalletizing and product singulation. This allows retailers to accommodate consumer preferences for variety packs of foods, beverages or household goods with an effective single-source automated material handling system.
"Intelligrated's latest advancements in robotic integration, end-of-arm tooling and software controls bring the benefits of automation to more complex order processes," said Ted Clucas, senior vice president, manufacturing systems, Intelligrated. "Our newest mixed-load and variety pack robotic solutions help our customers satisfy retail and consumer demands reliably and efficiently."
Featured Product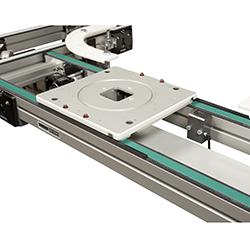 Dorner's 2200 Series Precision Move Pallet Systems feature the latest advancements in pallet traffic management. A unique pin tracking system guides pallets through merges and curves while maintaining product orientation. The fast belt change capability increases efficiency and reduces downtime in assembly automation processes. They are available in lengths up to 25 ft., can handle loads up to 500 lbs. and travel at speeds up to 114 ft/min.