The VTUG pneumatic valve terminal from Festo offers flexibility in the choice of control options, including simplified field bus connectivity and many other performance benefits.
HAUPPAUGE, NY (September 23, 2013) - The VTUG is designed for food, beverage, packaging, electronics, semiconductor, and light assembly industries where low cost and assured performance (high flow rate, small footprint, and long cycle life) is essential. Compact, lightweight VTUG aluminum manifold and valve housings can be mounted in cabinets, on machines, and on robotic end effectors. The VTUG valve terminal is also ideal for compact pilot valve applications when using an available dual 3/2-way function valve to accommodate from 4 to 48 solenoids.

The VTUG is ideal for the machine builder that wants to standardize on one valve terminal and offer customers control options from conventional multi-pin up to fieldbus. The original VUVG design, introduced in early 2010, has since taken off as Festo's premiere universal individual connection valve of choice. The success of this product helped influence the plug-in style VTUG. The VUVG design included the "E-Box" approach for electrical connectivity, allowing users to stock one valve body and choose from many designs to match application needs. Each E-Box uses a different electrical connector (such as Festo connectors, standard M8 connector, and other choices). Flexible design philosophy allows the user to select a desired communication preference for the VTUG valve terminal and modify it in the future.
The VTUG valve terminal can be controlled through a multi-pin connector, one cable IO-link interface to a master controller, or through Festo's new CTEU fieldbus module to DeviceNet, EtherCAT, CANopen, Profibus, and several other protocols. Multi-pin and I/O link modules are available as spare parts to easily convert existing valve terminal configurations, ensuring flexible communications.
For more information, please contact us at 800-993-3786 and visit http://www.festo.com/us.
Featured Product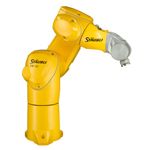 TX2 series of robots: the next generation of fast and precise 6-axis robots. This new robot range is redefining performance with the optimum balance of speed, rigidity, size and envelope. Those pioneer robots can be used in all areas, including sensitive and restrictive environments thanks to their unique features. Known worldwide for the quality of our design and innovation for more than a century, the Stäubli Group has brought its renowned engineering expertise and technological ingenuity to the forefront of robotics. Since 1982, we have built a highly regarded robotics business, and more significantly, transformed the way thousands of manufacturing operations perform. Today Stäubli Robotics is a leading player in robotics around the world, consistently delivering engineering as effective and reliable as our service and support.