Features a series of hollow-shaft angle sensors with very good price/performance
Southborough, MA - Novotechnik U.S. announces the WAL300 Series of hollow-shaft angle sensors, made by our affiliate Contelec, that combines high resolution of <0.3° with low cost of $22 in quantities of 1,000.

Housing diameter is 32 mm, and WAL300 Series is available with 6 or 8 mm D shaped hollow-shaft as well as 3/8 inch round bore with set screw. Housing height is 10 mm. Repeatability is 0.3° and operating temperature range is -25 to +75°C. Electrical travel is 0 to 340° with continuous mechanical travel.
WAL300 Series sensors' life is 4 million movements. The sensors are specified to operate when exposed to up to 50 g shock and 10 g vibration and shaft loading of
up to 1 N.
Flat tabs are integrated into the housing for easy mounting. Applications WAL300 Series sensors are found in include robotics, door controls and automotive including convertible roofs and automatic tailgates of cars.
For more information on the WAL300 Series and Novotechnik's complete range of
sensors contact Novotechnik U.S., Inc. • Phone: 508-485-2244 · email: info@novotechnik.com · Web: www.novotechnik.com/wal300
Featured Product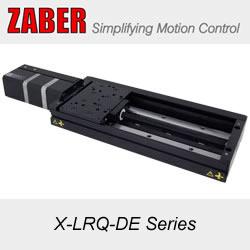 Zaber's new and improved stage (X-BLQ-E) is a closed-loop, belt-driven motorized linear stage with built-in motor encoder and controller. With travel lengths up to 3 m, 10 µm repeatability, and a maximum speed of 2.0 m/s, X-BLQ-E stages are perfect for rapid positioning over large distances. A built-in motor encoder allows closed-loop operation and slip/stall recovery, and an optional indexed knob provides manual control for operation without a computer. Like all Zaber products, the X-BLQ-E Series is designed for easy set-up and operation.