RESTON, Va.- QinetiQ North America will display its latest fleet management, survivability, unmanned systems, portable power and sensor technologies for land, air and maritime environments at the AUSA Annual Meeting in Washington, DC.

What: Association of the United States Army Annual Meeting and Exposition
When: October 21-23, 2013
Where: Walter E. Washington Convention Center, Booth 7843, Washington, DC
Featured displays will include integrated warrior systems, logistics and lifecycle management solutions, gunfire detection solutions, armor protection systems, military robots, tactical controllers, man-portable power solutions and a suite of sensors to support the soldier in any environment.
About QinetiQ North America
QinetiQ North America (QNA) is a subsidiary of QinetiQ Group plc, the FTSE250 company listed on the London Stock Exchange (LSE:QQ.L). Operating in North America, QNA delivers world-class technology, responsive services, and innovative solutions for global markets, focusing on U.S. government and commercial customers. Its engineers, scientists and other professionals deliver high quality products and services that leverage detailed mission knowledge and proven, reliable tools and methodologies to meet the rapidly changing demands of national defense, homeland security and information assurance customers. QNA is headquartered in Reston, Virginia. For more information visit www.qinetiq-na.com and join our conversation at www.facebook.com/qinetiqna.
Featured Product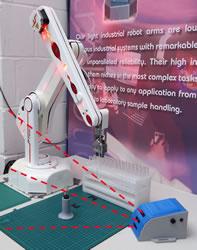 The 6-axis version of the R17HS high speed variant of the R17 robot is now available. As is our policy the 6th axis is an optional bolt-on module. At the same time we have made it even faster and new software eliminates shake and greatly improves repeatability as this video shows. Please see https://www.youtube.com/watch?v=3wG0MeiJ-yE. The video would seem to imply a repeatability of 0.01mm but we are sticking with 0.2mm in the spec. The motor specialist was able to tune the motors from the other side of the pond. My first reaction when we put power on and entered the first commands was to jump back in amazement (and maybe an expletive). Tip speed is now 3m/s; that's 3 times as fast as its nearest competitor yet costs half the price. I love it when a plan comes together.