New pulsed laser diode modules featuring power greater than 500mW will be showcased in OSI Laser Diode's booth # 2029 at SPIE Photonics West at the Moscone Center in San Francisco, Feb. 4-6, 2014.
October 17, 2013 - Edison, NJ - OSI Laser Diode, Inc. (LDI), an OSI Systems Company, introduces the SCW 1532-500R high-power, pulsed laser diode module that features power higher than 500 mW and operates at 1550 nm. It is ideal for use in optical spectrum analyzers (OSAs) and optical time domain reflectometers (OTDRs). The 14-pin butterfly package with an industry-standard pin-out offers excellent pulse drift performance and high stability. The 1550 nm high power laser diode module is the first in a series of three devices. Two more modules with 1310 nm and 1625 nm wavelengths, respectively, are in development and will be released soon.

The laser diode is optically coupled to an SMF fiber pigtail and includes a thermoelectric cooler (TEC) and an electrically isolated temperature-sensing thermistor. Other features of the 1550 nm pulsed laser diode module include optical power at 500 mW, a threshold current of 70 mA, and a typical forward voltage of 2V to a maximum of 3V. For added convenience, standard connectors are optional, making the new device easy to integrate into an existing or a new optical test and measurement system where high peak pulsed optical power is required.
OSI Laser Diode's new device offers operating temperature ranges from 0 to 65 degrees C and storage temperature (non-operational) ranges from -40 degrees C to 85 degrees C. For more information, please visit www.laserdiode.com. If you're planning to attend SPIE's Photonics West 2014, be sure to stop by OSI Laser Diode's booth # 2029 at the Moscone Center, San Francisco, CA from Feb. 4 - 6, 2014 for a demonstration.
About the Company: OSI Laser Diode, Inc. (LDI), founded in 1967, is a global leader in laser diode technology, providing advanced optoelectronic products that serve the military/aerospace, telecom/datacom (short and long haul), commercial, industrial, and medical markets.
Featured Product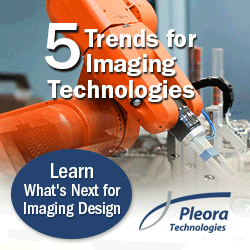 Technology development moves at a dizzying pace and the machine vision industry is no exception. Specific to imaging there is consistent innovation aimed at improving efficiencies, costs, and intelligence. Over the past 12 months, for example, new USB3 Vision™ products have driven the design of higher bandwidth, plug-and-play solutions for imaging applications. What's next for machine vision? This article examines five trends that are expected to influence imaging system design. Sign up at right to receive news and updates on the latest vision technology for medical imaging and you'll receive Five Trends for Imaging Technologies free!