AUSA Annual Meeting takes place in Washington D.C., Oct. 21 - 23
CHARLOTTE, N.C., Oct. 17, 2013 -- UTC Aerospace Systems will have and extensive display of technology and solutions for defense, unmanned aerial systems (UAS) and security applications at the AUSA Annual Meeting which takes place in Washington D.C., Oct. 21 - 23. UTC Aerospace Systems is a unit of United Technologies Corp. (NYSE: UTX).

UTC Aerospace Systems (booth #525) will be exhibiting a wide range of technologies and solutions from laser warning systems applications for land platforms and helicopters to products for guidance and navigation control. Small UAS will be presented along with multiple UAS applications, including Cloud Cap Technology TASE gimbals and piccolo autopilots. Sensors Unlimited short-wave infrared (SWIR) cameras will also be on display, including a handheld variant, all providing the benefits of being able to see through obscurants such as fog, haze and smoke.
Chemical detection solutions, Kidde fire protection systems, crew seats, fuel cell power and driveshaft technology, health and usage management systems (HUMS), electronic flight bags, rescue hoists and mission data recorders will be displayed at the show.
Technical teams will be on hand throughout the show for expert demonstrations and to answer questions on all products displayed, including specialists from Actuation Systems.
UTC Aerospace Systems designs, manufactures and services integrated systems and components for the aerospace and defense industries. UTC Aerospace Systems supports a global customer base with significant worldwide manufacturing and customer service facilities.
United Technologies Corp., based in Hartford, Connecticut, is a diversified company providing high technology products and services to the building and aerospace industries.
www.utcaerospacesystems.com
Featured Product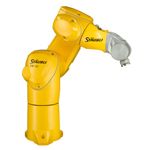 Stäubli offers a complete range of robotic tool changing systems for payloads of 20 kg to 1,530 kg and torsion moments from 30 to 12,500 Nm, designed for use in virtually every industry. The tool changers adapt to customer-specific applications with different modules for media, data, power, etc. The new MPS 130 robotic tool changer is powerful, very robust, and designed for a huge range of applications. It features multiple couplings for air/vacuum connections, and can be equipped with connectors for data and electrical transmission. Very compact dimensions, with a coupled height of only 67 mm, make the MPS 130 the first choice for applications requiring a high number of mating cycles.