The FASTCAM Mini UX1000 CMOS sensor features 10-micron square pixels.
October 21, 2013 - San Diego, CA - Photron, Inc., a global leader and manufacturer of high speed cameras and image analysis software, introduces the small, lightweight FASTCAM Mini UX100 high speed camera. The new, one-piece high speed imager provides 1,280 x 1,024 pixel resolution to 4,000 frames per second (fps), 720 high-definition (HD) resolution (1,280 x 720 pixels) to 6,400 fps, and reduced resolution operation up to 800,000 frames per second. The global electronic shutter operates down to 1 microsecond to provide blur free, B&W imagery with 12-bit pixel depth (36-bits for the color version). Light sensitivity is ISO 12232 Ssat certified at 8,000 ISO 12-bit monochrome; 4,000 ISO for the 36-bit color version.

Photron's new camera offers powerful high speed imaging performance in a compact 120 mm x 120 mm x 90 mm package, weighing only 1.5 Kg. Available with three onboard memory options up to 16 gigabytes, the compact camera is ideal for a wide variety of applications, including sports, broadcasting, life sciences, biomechanics, off-board automotive imaging, fluidics, and ballistics testing.
The FASTCAM Mini UX1000 CMOS sensor features 10-micron square pixels. For added functionality, the camera includes a Gigabit Ethernet interface, up to 64 available memory partitions, F-mount (G-type lens compatible) and C-mount lens mounts, and a trigger mode that offers start, center, end, manual, and random control. For more information, please visit: www.photron.com.
Photron, Inc. (USA) (www.photron.com) is a leading worldwide manufacturer and supplier of digital high speed cameras, including the world's fastest mega pixel video systems. High speed imaging products range from low-cost solutions to highly specialized, intensified systems for biofluorescence and combustion analysis. High speed, slow motion cameras featuring high definition (HD) resolution up to 2,000 frames per second are available for motion picture, reality TV, sports, and broadcast applications. For production fault-finding, Photron offers high speed imaging systems with multiple miniature cube or pencil camera heads. For extreme or hostile environments, such as vehicle crash testing and/or military weapons proving, Photron's high-G rated camera systems are utilized. Cameras include standard and custom, high-resolution, high-speed imagers, software, and systems to meet R&D, automotive, commercial, medical, and defense-related motion image analysis requirements.
Featured Product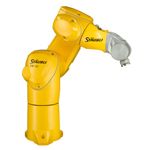 TX2 series of robots: the next generation of fast and precise 6-axis robots. This new robot range is redefining performance with the optimum balance of speed, rigidity, size and envelope. Those pioneer robots can be used in all areas, including sensitive and restrictive environments thanks to their unique features. Known worldwide for the quality of our design and innovation for more than a century, the Stäubli Group has brought its renowned engineering expertise and technological ingenuity to the forefront of robotics. Since 1982, we have built a highly regarded robotics business, and more significantly, transformed the way thousands of manufacturing operations perform. Today Stäubli Robotics is a leading player in robotics around the world, consistently delivering engineering as effective and reliable as our service and support.