Considered by many to be a hot "new" technology, SME's RAPID Conference & Exposition has been showcasing additive manufacturing technology since 1990.
Dearborn, Mich. October 18, 2013

The frequency of news stories declaring the wonders of 3D printing can lead one to believe this technology is the newest thing since smartphones. However, SME began showcasing additive manufacturing and related technologies nearly 25 years ago in Detroit. The RAPID Conference & Exposition - known worldwide as the authority in additive manufacturing, 3D printing and 3D scanning - will return to its origins at Detroit's newly renovated Cobo Center, June 9-12, 2014.
Located in a different city each year since 1990, RAPID brings additive manufacturing technologies to manufacturing professionals across the country. With its return to the Motor City - a world-class industrial hub and the heart of manufacturing's renaissance - RAPID will feature the very latest of this technology including the ability to print parts for jets to customized medical devices for patients.
"RAPID draws a highly technical and keenly focused audience that comes back year after year to connect, educate and advance the industry," said RAPID event manager Maria Conrado. "We're excited to build on the success of RAPID 2013 and continue to provide the additive manufacturing community with the gathering place it needs to sustain its growth."
RAPID is produced by SME with support from its Rapid Technologies & Additive Manufacturing (RTAM) Community. The event connects seasoned professionals and newly interested individuals, companies, educators and governments to advance innovation and the adoption of additive manufacturing and 3D printing technologies.
The RAPID 2013 event, held in Pittsburgh, was evidence that the interest in additive manufacturing has reached a tipping point. There were more newcomers to the technology in attendance than any previous event, and they had a very serious interest in learning and applying the technology. Many talked with suppliers on the show floor, others attended the full conference and many came for the introduction to additive manufacturing workshops.
In addition to announcing the dates and location for RAPID 2014, SME also announced its call for presentation abstracts for the conference portion of the event. "RAPID is the place to share your innovative research, case study or application with a high-level, influential audience focused on additive manufacturing," said Conrado.
Co-located with two other events, it is expected that RAPID will draw an even wider audience than previously. Occurring alongside RAPID will be:
THE BIG M
An unprecedented event to celebrate manufacturing, THE BIG M will connect people with technology and expertise, affirm the industry's importance and provide a powerful and unified voice to industry and education policymakers about the issues facing manufacturers today. THE BIG M is designed as a springboard for organizations and potential new partnerships in business.
International Manufacturing Research Conference including NAMRC/MSEC/ICM&P
Hosted by The University of Michigan in 2014, this is the premier international forum for manufacturing research and industrial applications. Here, global academic and industrial leaders in manufacturing collaborate, debate and advance the field.
"SME is excited to connect the well-respected RAPID community with leaders, educators and researchers from the manufacturing industry at large through the co-location of THE BIG M and the International Manufacturing Research Conference," said Debbie Holton, director of events and industry strategy for SME. "We want these groups to share innovations and solutions that address manufacturing's challenges - the skills gap, global competition, new technologies like 3D printing, and more."
About SME
SME connects all those who are passionate about making things that improve our world. As a nonprofit organization, SME has served practitioners, companies, educators, government and communities across the manufacturing spectrum for more than 80 years. Through its strategic areas of events, media, membership, training and development, and the SME Education Foundation, SME shares knowledge to advance manufacturing. At SME, we are making the future. Together.
Featured Product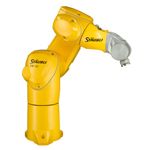 Stäubli offers a complete range of robotic tool changing systems for payloads of 20 kg to 1,530 kg and torsion moments from 30 to 12,500 Nm, designed for use in virtually every industry. The tool changers adapt to customer-specific applications with different modules for media, data, power, etc. The new MPS 130 robotic tool changer is powerful, very robust, and designed for a huge range of applications. It features multiple couplings for air/vacuum connections, and can be equipped with connectors for data and electrical transmission. Very compact dimensions, with a coupled height of only 67 mm, make the MPS 130 the first choice for applications requiring a high number of mating cycles.