Users often select drive technology - pneumatic or electric - over hastily and on the basis of experience alone. In order to identify the most energy-efficient automation solution, however, a technology-neutral comparison is required. This is exactly the approach that Festo takes to achieve the most efficient mechatronic solutions for its customers.
With the engineering software PositioningDrives for instance, users need just a few key data in order to arrive at the right solution. Which electromechanical linear drive best meets their specifications? All that is needed is the input of position values, the payload and the installation position and the software will suggest an optimised solution. Incorrect dimensioning and wasting energy become a thing of the past.

Correct dimensioning with software tools
One dimensioning process for mechanical drive and transmission components and motors prevents a duplication of safety factors, which would result in over dimensioned electric drive systems and a waste of energy. Calculations have shown that, with consistent use of PositioningDrives for dimensioning, energy costs can be reduced by as much as 70%.
A similar Festo dimensioning software program helps users select the right-sized pneumatic drive.
Excessively large cylinders consume air unnecessarily while cylinders that are too small need to be operated at the maximum permissible pressure. High system pressures waste money. Air consumption can also be reduced through the use of single-acting cylinders wherever possible.
Energy savings in the system
When the software is used for pneumatic dimensioning, simulations take the place of costly real-life testing of the entire pneumatic control chain. If a parameter is changed, the program automatically adapts all the other parameters. When users configure a pneumatic control chain, the program ensures that all the system components are optimally sized. This makes it possible to reduce pressure losses, pressure levels and tubing size. Short electric cables and compressed air tubing also help save energy.
Festo can create energy-optimised solutions for handling systems and control technology. Supplied ready-to-install and fully pre-tested, lightweight handling systems such as the high-speed handling unit Tripod EXPT or the high-speed H-gantry EXCH are delivered directly to users' applications. The low weight of the tripod, with its rod kinematics and standard electromechanical components and ultra-light carbon fibre rods, ensures the efficient use of drive technology.
High speed solutions
In the case of the H-gantry, which offers the most dynamic motion of any gantry design, stationary motors for the X- and Y-axes ensure lower moving masses. In control technology systems, for example, the double motor controller CMMD-AS with its coupled intermediate circuits exploits braking energy for recovery purposes.
Another example of an ideal combination: the electric toothed belt axis ELGA ensures high-speed travel, while the intelligent vision system SBOI-Q is responsible for the precision. It determines the actual point and ensures the transported goods are precisely positioned. A typical example is a pre-assembled handling system for testing electronic components, in which a large number of test places must be controlled quickly and accurately.
Camera as controller
But how does the axis with the gripper module and the components to be tested find where exactly the free test places are? That is where the intelligent camera SBOI-Q from Festo comes in. It controls the electric handling unit via an integrated PLC. The camera analyses the image of the actual position against the reference data. It uses the data to calculate the correct position for the X- and Z-axes of the handling unit.
The camera SBOI-Q is mounted on the front end of the electric cantilever handling unit. It takes on complete control of the handling unit thanks to the integrated CoDeSys PLC with CANopen master functionality. No additional control is necessary, so the entire system is less complex and is also faster and cheaper than a spindle axis.
Successful combinations
Customers' handling tasks determine the form which a solution takes - regardless of the type of drive. Festo's experts make use of the company's entire range of over 30,000 products to select the best drive solution - servopneumatic, electric or pneumatic - on a technology-neutral basis. Their working principle is "Energy efficiency times mechatronics equals success". This formula is the result of Festo's inspiring solutions - efficient, safe and simple.
Featured Product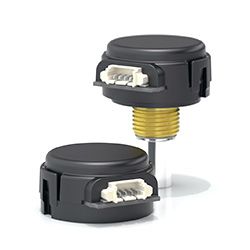 High resolution. Limited space. Not a problem for our latest miniature encoders that provides precise feedback and is easy to install within smaller-sized applications. Now available in 400 and 500 CPRs. Coming in at about the size of a nickel, we've added our proprietary Opto-ASIC sensor technology and improved quadrature for even greater motion control. Product Features: 10 resolutions up to 360 CPR, plus new 400 and 500 CPR resolution; 288 configurations available, including single and differential output; Compact form factor • 0.866 inch (in) / 22.00 millimeter (mm) package outside diameter • 0.446 in / 11.33 mm package height • Fits NEMA 8, 11, 14 and 17 motors; Simple and efficient assembly process • Four-piece construction • Push-on hub disk design, patent pending; 100 kilohertz frequency response; Shafted version up to 0.25 in / 6.25 mm diameter.