The new version has better stability and navigation systems
UAV Nagivation has just released V.5 Proton, the newest version of the company's flight control technology for array of unmanned aerial vehicles. The Proton is capable to function for a fixed wing, helicopter or multirotor unmanned platform.

The new version has better stability and navigation systems, along with being able to autonomously take off, fly and land, according to a company press release.
"We are always looking for ways to integrate the latest advances in sensor technology into our flight control units. In addition, our flight control software is constantly evolving to include new functionality, such as DGPS for precision landing and integration of the latest UAV transponders. The Proton is the smallest and most economical flight control unit we offer … ," Guillermo Parodi, CEO at UAV Navigation said.
Featured Product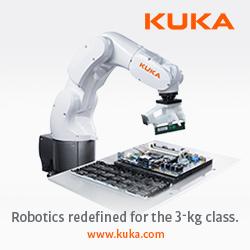 Great advances often start with small steps - in manufacturing cells measuring only 600 × 600 mm. Here, the KR 3 AGILUS is in its element. Particularly in the case of small parts and products which must be produced in a minimum of space. KUKA expertise, concentrated into the smallest of spaces, is setting new standards for the 3-kg class. The lightweight robot masters various tasks with agility, dynamism and maximum precision, leading to high flexibility in production - even when it comes to extremely narrow spaces.