The new version has better stability and navigation systems
UAV Nagivation has just released V.5 Proton, the newest version of the company's flight control technology for array of unmanned aerial vehicles. The Proton is capable to function for a fixed wing, helicopter or multirotor unmanned platform.

The new version has better stability and navigation systems, along with being able to autonomously take off, fly and land, according to a company press release.
"We are always looking for ways to integrate the latest advances in sensor technology into our flight control units. In addition, our flight control software is constantly evolving to include new functionality, such as DGPS for precision landing and integration of the latest UAV transponders. The Proton is the smallest and most economical flight control unit we offer … ," Guillermo Parodi, CEO at UAV Navigation said.
Featured Product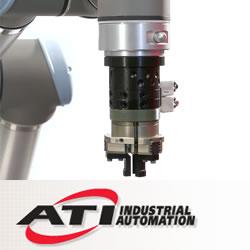 The ATI Robotic Tool Changer provides the flexibility to automatically change end-effectors or other peripheral tooling. These tool changers are designed to function reliably for millions of cycles at rated load while maintaining extremely high repeatability. For this reason, the ATI Tool Changer has become the number-one tool changer of choice around the world. ATI Tool Changer models cover a wide range of applications, from very small payloads to heavy payload applications requiring significantly large moment capacity.