Energy Chain Systems® and Chainflex® continuous-flexing cables among others will be displayed at FABTECH, North America's largest metal forming, fabricating, welding, and finishing event.
East Providence, Rhode Island November 04, 2013

Plastics expert igus® will be exhibiting some of its solutions for a variety of applications at this year's FABTECH expo in booth S552 at Chicago's McCormick Place, November 18-21, 2013. Expected to cover more than 550,000 net square feet and anticipating over 35,000 attendees and 1,500 exhibiting companies, igus® plans to showcase some of its robotic solutions for the fabricating and metal forming industries.
Some featured products from igus will include:
Energy Chain Systems RX Energy Tubes -- nearly 100 percent chip-proof and its smooth, domed outer contour ensures all debris, such as metal chips, simply falls off. Perfect for rough environments where cables need heavy-duty protection.
Chainflex® CF270-UL-D -- A high quality, low priced single core solution. Designed like a spindle cable, the CF270-UL-D is much thinner than average servo cables, and ideal for supplying maximum power while staying within the confines of the machine tool.
Triflex TRLF-100 -- Inserting or removing cables and hoses is made even easier by individual links that open by hand or with a screwdriver. This allows thick or inflexible hoses with large filling diameters or a high number of single cables to be inserted in record time.
Chainflex hybrid servo cables -- Energy and data feedback coupled in one cable. As well as saving space by reducing the number of cables needed, costs are minimized by reducing the number of plugs needed, installation time, and a reduction in other materials needed, such as cable management.
Visit igus® at FABTECH, Booth S551, South Hall, McCormick Place, Chicago, Illinois, USA. For free passes to FABTECH 2013, or to make an appointment at the igus booth, visit http://www.igus.com/fairs.
For more information about FABTECH, visit the tradeshow website at http://www.fabtechexpo.com.
About igus®
igus® develops industry-leading Energy Chain® cable carriers, Chainflex® continuous-flex cables, DryLin® linear bearings and linear guides, iglide® plastic bushings, and igubal® spherical bearings. These seemingly unrelated products are linked together through a belief in making functionally advanced, yet affordable plastic components and assemblies. With plastic bearing experience since 1964, cable carrier experience since 1971 and continuous-flex cable since 1989, igus provides the right solution from over 80,000 products available from stock. No minimum order required. For more information, contact igus at 1-800-521-2747 or visit http://www.igus.com.
Featured Product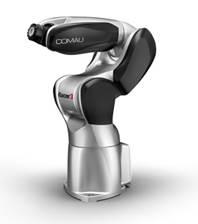 Racer3 is a powerful, high-speed, 6-axis articulated robot featuring a payload of 3kg and a reach of just 630 mm. Built from high-strength aluminum, the newest innovation in Comau robotics is lightweight and can be easily mounted on benches, walls, ceilings or on inclined supports. The third robot within the award-winning Racer family, Racer3 is Comau's response to the growing demand for fast, cost-effective robotic automation within small to medium-sized enterprises and emerging countries. Racer3 is intended for general industry use to increase productivity and reduce overall costs by automating industrial applications. It combines field-proven technology and enhanced dexterity with a keen focus on safety, design and product aesthetics. With a streamlined design and brushed metal exterior, the new powerhouse of a robot combines beauty and speed together with absolute precision and repeatability. Primary applications include assembly, material handling, machine tending, dispensing and pick & place.