On October 22nd, 2013, US Digital was awarded their ISO 9001:2008 certificaton after a comprehensive audit by PRI Registrar.
Vancouver, Washington, USA, November 4, 2013 -US Digital, a U.S. manufacturer of optical rotary encoders, announced they have achieved the ISO 9001:2008 certification. Scope of Registration includes design, manufacturing, assembly and distribution of motion control products and accessories. US Digital received the certification from PRI Registrar, which involved a rigorous audit of business processes, manufacturing processes and products.

As part of the ISO certification process, US Digital implemented an ISO compliant Quality Management System to ensure commitment to customer satisfaction and strengthen performance through improving and streamlining processes.
"US Digital's commitment to the ISO 9001:2008 framework demonstrates quality is our priority, from products and processes to customer support and delivery. Our customers can be confident that we will work to exceed their quality expectations and continue to analyze and improve our processes," said Bob Willoughby, President of US Digital.
About US Digital:
US Digital designs and manufactures motion control products used for speed and position control in a wide variety of industrial applications. Motion control building blocks include incremental and absolute optical encoders, magnetic encoders, inclinometers and more. With vertically integrated design and manufacturing capabilities, custom and standard encoders are delivered with best-in-industry lead times. US Digital is located in Vancouver, Washington, USA. www.usdigital.com
Featured Product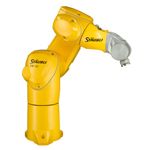 Stäubli offers a complete range of robotic tool changing systems for payloads of 20 kg to 1,530 kg and torsion moments from 30 to 12,500 Nm, designed for use in virtually every industry. The tool changers adapt to customer-specific applications with different modules for media, data, power, etc. The new MPS 130 robotic tool changer is powerful, very robust, and designed for a huge range of applications. It features multiple couplings for air/vacuum connections, and can be equipped with connectors for data and electrical transmission. Very compact dimensions, with a coupled height of only 67 mm, make the MPS 130 the first choice for applications requiring a high number of mating cycles.