The NX series utilizes one network, one connection and one software to provide truly integrated automation and safety from a single platform
SCHAUMBURG, IL - OMRON Automation and Safety introduces NX Series Safety Controllers. The NX series combines automation and safety on the same EtherCAT® network in a mixed I/O backplane to promote design flexibility and minimize wiring costs. A single intuitive software programming environment reduces machine and safety design time, while an auto configuration restart function eliminates the need NX Series Safety Controllersfor tools or software to exchange I/O hardware. The result is a seamlessly integrated solution that helps maximize machine flexibility, safety and productivity for the total machine lifecycle.

"The NX Safety Controller is a particularly exciting introduction because, in combination with our new NX I/O system andSysmac NJ Controllers, it represents a decisive step towards the complete integration of safety, logic, motion and vision disciplines - and it does so in one software platform (Sysmac Studio), on one network (EtherCAT) and in one control system (Sysmac NJ Controller)," says Matt Dodds, Product Marketing Manager - Safety, OMRON Automation and Safety.
Their functionality and flexibility make these safety controllers ideally suited for applications such as automotive robotic work cells, larger flexible packaging machines and material handling work cells with multiple access points.
FSoE - Safety over EtherCAT
The open protocol Safety over EtherCAT (FSoE) defines a safety related communication layer for EtherCAT. The NX Safety Controller and the distributed Safety I/O can be freely placed in the EtherCAT network, and their integration in the Sysmac Studio software environment simplifies initial system design, setup, and maintenance of the application. With this integrated system, machine builders can focus attention on improving machine performance and safety rather than system configuration.
"NX series safety controllers add ease and flexibility in programming the safety system with direct access, by the PLC, to all status and information about each safety inputs and outputs by simply assigning a variable," explains Dodds. "As a result, faster design and commissioning can be realized with this integrated solution."
Sysmac integrated safety
Sysmac integrated safety is suitable for satisfying the most demanding applications meeting Performance level (PLe) according to the ISO-13849-1 and SIL3 according to IEC61508. Sysmac integrated safety conforms to programming standard IEC-61131-3, and includes certified PLCopen Safety Function Blocks.
"Combining our integrated system, including safety components, from safety switches and safety sensors to motion devices with integrated safety functionality, provides significant benefits to machine builders who want to simplify and speed machine designs, and improve machine performance," says Dodds. "Omron is a Global 'one stop solution' supplier that offers not just components, but integrated solutions and services that can help OEMs design and build a competitive advantage."
About Omron Automation and Safety
At OMRON Automation and Safety our mission is "to keep people safe and highly productive on the factory floor."
We accomplish this by leveraging our world-renowned Omron STI safety products and solutions brought to machine builders and users through an international distribution channel that includes more than 100 factory-trained distributors in the United States and Canada alone. These skilled partners have access to an unmatched family of machine safety solutions and application expertise to solve the toughest automation challenges. In short, OMRON Automation and Safety is the leading global provider of machine safety and automation solutions, with the know-how to recommend and apply unbiased solutions for our customers whenever and wherever they need us.
Featured Product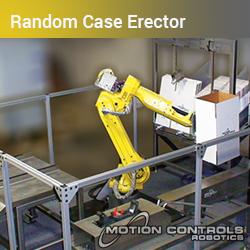 Random Case Erectors are ideal for fulfillment centers and other end-of-line packaging needs. Save money by eliminating changeover downtime. Reduce ergonomic injuries by eliminating repetitive manual tasks. The Random Robotic Case Erector System includes: • FANUC M20iA/20 Robot • Combi gravity case magazine - holds 2 box sizes • Combi bottom flap folder with integrated 3M case sealing head. • Fixed robot base, anchored to the floor • Flexible end of arm tool to pick and erect multiple case sizes to eliminate changeover downtime • System wiring and controls • Color 7.5" touchscreen HMI display for selecting case size • Perimeter guarding with safety interlocks on doors • Programming for Robot, PLC/PMC, HMI and Vision • Complete documentation in electronic format • On-site training and support • Compliance with all applicable robotic safety standards. Alternate safety configuration may be available to allow an operator to changeover a case size in one magazine while the robot continues to work in other magazines. Contact Motion Controls Robotics to learn more about how to implement this system into your current end-of-line operations.