"Future Proofing Frame Grabbers"
WOBURN, MA, NOVEMBER 7, 2013 -- BitFlow, the machine vision industry's premier manufacturer of frame grabbers, announced today that its Director of Sales, Donal Waide will be a featured speaker at the upcoming Vision Expert Day 2013 event scheduled for Tuesday, November 19th, in Eindhoven, Netherlands.

In his presentation, titled "How the frame grabber is continuously adapting to the demands of new technology vision," Mr. Waide will discuss the history of frame grabbers leading up to the current state of technology. He will also demonstrate where other interfaces have overlapped, competed, won and lost against the frame grabber. To conclude he will discuss what the future holds for frame grabbers. The presentation is set to begin at 10:30am and is free to all attendees.
BitFlow is the leader in frame grabber options employing Camera Link and CoaXPress. By supporting the CoaXPress (CXP) standard on the front end, its Cyton-CXP™ and Karbon-CXP frame grabbers facilitate video capture speeds of up to 6.250 Gigabits/second (Gb/S) in applications deploying one to four CXP cameras. This design also allows control commands, triggers and power to be sent to and from cameras over the same 75 Ohm coaxial cable, greatly reducing installation costs. With Camera Link, BitFlow offers an industry leading seven different options in frame grabbers to ensure the customer gets the best value for money and product.
Vision Expert Day 2013 provides opportunities that keep engineers up to speed with the latest developments in the industry and to expand their network. Design- and product specialists from leading vision component manufacturers update attendees on the technology roadmap in their specialist field.
For more information, visit www.bitflow.com.
Featured Product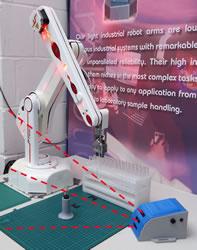 ST Robotics have decades of experience in industrial robots having sold hundreds of robots over the years. The company has 3 main models, R12, R17 and R19 all using a unique simple industrial technology that dramatically reduces costs resulting in the lowest priced industrial robots available. The same uncomplicated technology vastly improves reliability. ST backs this up with a 2 year warranty. Typical applications are routine testing, sample handling and also education. The software is a different paradigm from most robots. It is command based; you type a command and see immediate action. Programming is a building block approach, building confidence as you program in small 'mind-sized bytes'. ST offers free unlimited technical support.