Multiple variants: One family of robots with payloads from 150 to 300 kg and reaches from 2.6 to 3.2 meters ---- Robust yet precise: Collision resistant with moment of inertia capabilities and highly accurate next generation motors ---- Built around Lean ID: Cost effective Integrated Dressing (ID) for easy programming, reduced wear and small footprints ---- Simplified maintenance: Longer service intervals, highly accessible components and optimized service routines ---- Lowest Total Cost of Ownership: Key improvements and better energy efficiency combine to reduce TCO by up to 20%
AUBURN HILLS, Mich. (November 13, 2013) - ABB Robotics has introduced the IRB 6700 robot family, its seventh generation of industry-leading, large industrial robots. The new IRB 6700 is available in payloads from 150 to 300 kg, and reaches from 2.6 to 3.2 meters, and is designed for spot welding, material handling and machine tending. In addition to enhanced speed, payload and accuracy, the power consumption has been lowered by 15%, total cost of ownership has been reduced by up to 20%, and maintenance has been optimized, doubling the time between service intervals.

The new model is available with LeanID, a new Integrated Dressing (ID) designed for easier programming and a smaller footprint. It has also been built to withstand the harshest working environ­ments and is available with ABB's ultimate Foundry Plus 2 protection system. See the new IRB 6700 in action.
In determining what improvements to include, ABB studied the detailed field reports from the IRB 6700's predecessor and engaged closely with customers during a yearlong study.
"Our aim from the beginning was to deliver a robot with the lowest total cost of ownership available," says Ola Svanström, ABB Robotics product manager for large robots. "When we asked our customers what they value most in our large robots their answer was virtually unanimous - reliability. So, we revisited every aspect of our current range to improve everything we could in this regard. It may not look that different from its predecessor on the outside, but the hundreds of small improvements on the inside are what count."
Every robot in the 6700 family has been designed to accommodate Lean ID - designed to achieve a balance between cost and durability by integrating the most exposed parts of the dress pack into the robot. Equipping an IRB 6700 with Lean ID makes it easier to program and simulate with predictable cable movements, creates a more compact footprint, and lengthens service intervals due to lessened wear and tear.
"As a direct result of close collaboration with our suppliers, the IRB 6700 also includes a new generation of accurate, efficient and reliable motors and compact gearboxes," said Nick Hunt, ABB Robotics manager of technology and support, North America. "We spent a great deal of engineering effort making the robot as rigid as possible to better protect and prepare it for the harsh environments in which it operates. We also validated and tested more robot prototypes than ever before to ensure our predictions for reliability are accurate in the real world."
In designing the new robot, easier serviceability was identified as a critical aspect for improving its total cost of ownership. Service routines for the machine have been shortened and intervals between them have been increased. Access to motors has also been improved and technical documentation for maintenance has become easier to read and understand through the use of improved graphics and 3D simulations called "Simstructions."
At introduction the IRB 6700 family will include four variants ranging in payload from 150 to 235 kg and reaches of 2.65 to 3.20 meters. Four additional variants will be added over the next 18 months to meet the needs of higher payloads up to 300 kg, as well as shorter reaches on lower payload models.
Featured Product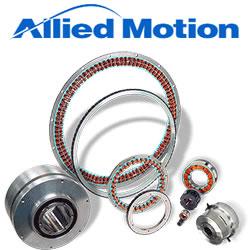 Allied Motion's Megaflux MFH170i series of 170 mm (6.7 in) diameter housed brushless torque motors consists of a high performance brushless DC torque motor, a digital servo drive, and an optical encoder, all integrated into a rugged machined aluminum housing with robust duplex bearings. The MFH0170i series features a 63.5 mm (2.5 in) large-bore through shaft, and is characterized by a very high torque-to-inertia ratio. There are three stack lengths in the series with peak torque ranging from 8.5 up to 16.9 Nm (75 up to 150 lb-in). The standard winding voltage is 48 V. And to ease the hassle of long leadtimes for prototypes, the new MFH170i is now available through our QuickShip program.