ING Robotic Aviation to Showcase Robotic Aircraft Systems
ING Robotic Aviation will be showcasing their robotic aircraft systems, at this year's 2013 Unmanned Systems Canada Conference. The conference is an annual event that takes place this year from November 12-14 in Vancouver, British Columbia. As the leading event for the unmanned systems industry in Canada, the association welcomes dozens of international exhibitors and focuses on connecting important players within the sector.

Serenity, a fixed wing aircraft, will be the centerpiece of the booth. With its extended range and long endurance capabilities this platform is ideal for a variety of applications including pipeline monitoring, environmental surveying and aerial surveillance. Furthermore, the Serenity system was recently sold to iFMS, a Chilean company, for forest fire fighting.
ING Robotic's Responder, a small rotary wing aircraft, will also be on display. With it's ability to be quickly deployed and vertical takeoff and landing capability (VTOL) this platform can be used for applications such as critical infrastructure inspections. The Responder was recently sold to a company in East Africa for surveillance purposes.
Delegates and media are asked to visit the ING Robotic Aviation at booth #10 in the Exhibition Hall at the Westin Bayshore from November 13-14, 2013. Company executives, including CEO/CTO and founder of Unmanned Systems Canada, Ian Glenn, will be available for interviews during this time.
Additionally, Mr. Glenn will be presenting in an Afternoon Breakout Session. The presentation will focus on explaining why having this industry association is of great importance for Canada. Attendees and media are encouraged to attend this presentation in Stream 3, Salon F of the Exhibition Hall at 2:00 pm on Wednesday November 13, 2013.
"Robotic aircraft is the future, and the future is now", states, Ian Glenn. "It's about getting the right information, into the right hands, at the right time."
ING Robotic Aviation delivers airborne sensing solutions and much more. We developed our skills through extensive operational surveillance work with the Canadian military. From these beginnings, we are now providing commercial services across Canada and internationally. Our clients are discovering whole new uses and capabilities for aerial surveillance. We are at the forefront of a disruptive technological and operational change, focused on reinventing aviation.
Featured Product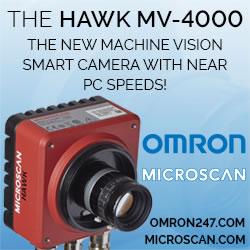 Space, or the lack of it, can be a challenge when placing barcodes or Data Matrix symbols on components. However, readable barcodes are critical to component traceability, time/date stamping, work in progress (WIP) tracking, and recall management. MicroHAWK UHD smart cameras can decode very small and difficult-to-read barcodes, including Data Matrix two-dimensional (2D) symbols and direct part marks (DPM). Users can rely on the MicroHAWK UHD to read symbols with an x-dimension almost invisible to the naked eye!