The Automotive Testing Technology International magazine recognizes ASI and Ford Motor Company with the Hardware Innovation of the Year Award for their work with the Ford robotic durability testing program.
Petersboro, Utah November 18, 2013

The Automotive Testing Technology International magazine announced today that Autonomous Solutions, Inc. (ASI) and Ford Motor Company won the 2013 Hardware Innovation of the Year Award. The two companies teamed up to develop Ford's robotic durability testing program which was officially announced in June. The program uses robotic components and software developed by ASI to convert Ford testing vehicles from manual to robotic control. The automation technology improves safety for test drivers who were at risk of injury from prolonged exposure to rough test tracks.
"Removing the risk of long-term spinal injuries to human test drivers from essential durability trials demonstrates a commitment by Ford to both its employees undertaking the work, as well as to the customers for whom it develops vehicles that can take the punishment," said Keith Read, columnist for the Automotive Testing Technology International publication and member of judging body for the award.
Ford engineers worked with ASI specialists for three years to develop, tune, and test the robotic kits for use at Ford's Michigan Proving Grounds. Ford test vehicles equipped with robotic technology have now accumulated tens of thousands of miles of testing data.
"We are honored to be selected for this year's Hardware Innovation of the Year Award," said Mel Torrie, President and CEO of ASI. "This award represents the hard work and ingenuity of many talented individuals from both Ford and ASI. Ford's robotic durability program shows how far unmanned technology has come and how useful it can be to improve safety and productivity."
The Hardware Innovation of the Year Award is given annually to recognize innovative technology solutions in the automotive vehicle development community. Readers and editorial staff contribute nominations which are reviewed by an independent body of expert judges. The Hardware Innovation of the Year Award is one of seven honors given out in the Automotive Testing Technology International magazine, including: Company of the Year, Engine Test Facility of the Year, Crash Test Facility of the Year, Proving Ground of the Year, CAE Innovation of the Year, and Person of the Year.
About ASI
For more than 13 years, ASI has been a world leader in unmanned ground vehicle systems. From their northern Utah headquarters, ASI serves clients in the automotive, mining, agriculture, military, and manufacturing industries with robotic solutions ranging from driver assistance to full, multi-vehicle autonomy. ASI's world-class engineering staff is dedicated to the ideals of innovation, safety, simplicity, and quality.
Share on Twitter
Featured Product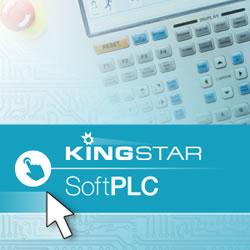 The top machine builders are switching from proprietary hardware-based PLCs, like Allen-Bradley, TwinCAT, Mitsubishi and KEYENCE, to open standards-based EtherCAT-enabled software PLCs on IPCs. KINGSTAR provides a fully-featured and integrated software PLC based on an open and accessible RTOS. KINGSTAR Soft PLC also includes add-on or third-party components for motion control and machine vision that are managed by a rich user interface for C++ programmers and non-developers alike.