Seamless integration: ABB Integrated Vision works with PC-based ABB RobotStudio to provide a platform for creating vision tasks quickly and easily --- Easy to program: Operators can automatically select features, set parameters and operate under real world conditions --- Flexible technology: Offers greater processing power, high resolution, industry-leading vision tools, connectivity and operator interface --- Quick installation: Plug-and-produce integration between PC-based and controller-based software
AUBURN HILLS, Mich. (November 21, 2013) - ABB Robotics has introduced Integrated Vision, a powerful smart camera system that makes vision-guided robotics applications faster and easier to deploy than ever before. Using 2D vision guidance, ABB Integrated Vision allows manufacturers to: track products more accurately, improve supply chain management, improve quality, troubleshoot challenging lines and processes, and significantly expand their use of robotic automation. Taken together, the advantages of vision-guided robotics can significantly improve a company's bottom line, saving time, money, and other valuable resources.

"Besides improving quality and flexibility, ABB Integrated Vision optimizes production quality, and maximizes inspection and control by giving robots the power to see," said ABB product manager Klas Bengtsson. "Companies that effectively utilize vision-guided robotic systems can increase throughput and lower production costs, improve product quality and reduce rework and waste."
ABB Integrated Vision, powered by Cognex, features sophisticated imaging technologies such as the patented PatMax® algorithm for advanced part location. The result is robust inspection, defect detection, guidance, alignment, and measurement, all critical to ensuring that manufactured products meet the highest possible quality standards.
The new technology is also incredibly easy to setup, deploy and maintain. RobotStudio, ABB's powerfully simple PC-based programming tool, provides the platform for creating vision tasks quickly and easily. Operators can select features, set parameters and operate under real world conditions from a library of common vision applications. The smart camera offers the widest range of built-in communication protocols that interface directly with the robot, helping complete programming and set-up in approximately 25% of the traditional time.
"The new vision system is seamlessly integrated with both the ABB IRC5 controller and RobotStudio, providing run-time efficiency, offline engineering and ease-of-use," said Dr. Srinivas Nidamarthi, global technology manager, stationed at ABB Robotics North American headquarters in Auburn Hills, MI. "Operators simply plug the camera into the robot controller and they are ready to go."
About ABB
ABB (www.abb.com) is a leader in power and automation technologies that enable utility and industry customers to improve their performance while lowering environmental impact. The ABB Group of companies operates in around 100 countries and employs about 145,000 people.
About ABB Robotics
ABB Robotics (www.abb.com/robotics) is a leading supplier of industrial robots - also providing
robot software, peripheral equipment, modular manufacturing cells and service for tasks such as welding, handling, assembly, painting and finishing, picking, packing, palletizing and machine tending. Key markets include automotive, plastics, metal fabrication, foundry, electronics, machine tools, pharmaceutical and food and beverage industries. A strong solutions focus helps manufacturers improve productivity, product quality and worker safety. ABB has installed more than 200,000 robots worldwide.
Featured Product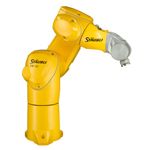 Stäubli offers a complete range of robotic tool changing systems for payloads of 20 kg to 1,530 kg and torsion moments from 30 to 12,500 Nm, designed for use in virtually every industry. The tool changers adapt to customer-specific applications with different modules for media, data, power, etc. The new MPS 130 robotic tool changer is powerful, very robust, and designed for a huge range of applications. It features multiple couplings for air/vacuum connections, and can be equipped with connectors for data and electrical transmission. Very compact dimensions, with a coupled height of only 67 mm, make the MPS 130 the first choice for applications requiring a high number of mating cycles.