Lincoln Electric Holdings, Inc. announced today that it has acquired an ownership interest in Burlington Automation Corporation.
Burlington Automation is a leader in the design and manufacture of 3D robotic plasma cutting systems. Based in Hamilton, Ontario, Canada, the company serves a wide base of customers in the structural steel, construction, oil and gas and general fabrication markets in North America. The company's main products are sold under the brand PythonX®.

"Burlington Automation broadens our portfolio of automated cutting and welding process solutions and strengthens our automation strategy," said Christopher L. Mapes, Chief Executive Officer. "Their proprietary technology complements our current automated cutting and welding systems by enabling customers to increase productivity and improve quality while reducing capital investment and floor space."
"We are pleased to partner with Lincoln Electric," said Rob Tyler, President of Burlington Automation. "Lincoln's market strength and worldwide reach will enable Burlington Automation to continue to design leading manufacturing systems while better serving new and existing customers across our growing business."
Terms of the transaction were not disclosed.
About Lincoln Electric
Lincoln Electric is the world leader in the design, development and manufacture of arc welding products, robotic arc welding systems, plasma and oxy-fuel cutting equipment and has a leading global position in the brazing and soldering alloys market. Headquartered in Cleveland, Ohio, Lincoln has 45 manufacturing locations, including operations and joint ventures in 19 countries and a worldwide network of distributors and sales offices covering more than 160 countries. For more information about Lincoln Electric and its products and services, visit the Company's website at www.lincolnelectric.com.
Featured Product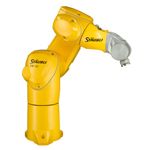 TX2 series of robots: the next generation of fast and precise 6-axis robots. This new robot range is redefining performance with the optimum balance of speed, rigidity, size and envelope. Those pioneer robots can be used in all areas, including sensitive and restrictive environments thanks to their unique features. Known worldwide for the quality of our design and innovation for more than a century, the Stäubli Group has brought its renowned engineering expertise and technological ingenuity to the forefront of robotics. Since 1982, we have built a highly regarded robotics business, and more significantly, transformed the way thousands of manufacturing operations perform. Today Stäubli Robotics is a leading player in robotics around the world, consistently delivering engineering as effective and reliable as our service and support.