Ensey will oversee Seegrid's Western region of the US.
PITTSBURGH, PA-Seegrid is growing. To accommodate this growth, the company hired Gary Ensey as regional sales manager and reports to Derek Roberts, Director of Sales. Ensey will oversee Seegrid's Western region of the US.

Ensey expressed his enthusiasm about joining the Seegrid team commenting, "The most exciting thing about joining the Seegrid sales team is the opportunity to sell a high-tech product into a mostly untapped market. The Seegrid technology lends itself to almost all markets and gives me the opportunity to sell our product into the various industries in need of automation. Seegrid's flexible AGVs give the customer a low cost, easy to install, and flexible alternative to other solutions. By freeing up the employee, it also gives the company better utilization of their workforce and reduces labor costs."
John Hayes, Vice President of Sales and Marketing, North America, explained why the dramatic staff increase is necessary noting, "We have seen a 350% increase in Seegrid robotic industrial truck orders year to date when compared to 2012. Also known as flexible AGVs, this extraordinary growth is proof the manufacturing sector has recovered. Material handling and distribution centers are expanding quickly because the demand for our products has never been stronger. We are adding talented and experienced staff to ensure the quality and customer care continues to be a hallmark of our company, our brand, and our reputation."
One of the elements for the Seegrid growth model is the "Try before you buy program." It allows potential customers to see how the Seegrid technology operates in their plants and distribution centers or warehouses, assuring that it is the right product every time. Seegrid has eliminated the guess work in selecting an AGV.
About Seegrid:
Seegrid Corporation (www.seegrid.com) provides simple, affordable, flexible vision-guided automated guided vehicles (AGVs) to the material handling industry. Seegrid robotic industrial trucks, flexible AGVs, are revolutionizing the movement of materials in manufacturing and distribution environments. Seegrid automated pallet trucks and tow tractors optimize workflow processes by increasing productivity and reducing costs, creating economic and operational advantages. Robotic industrial trucks deliver a rapid return on investment, improve facility safety, and reduce equipment and product damage. Fast Company magazine named Seegrid as one of the Top 50 World's Most Innovative Company in 2013 and among the Top 10 World's Most Innovative Robotics Company in 2013. Follow Seegrid Corporation on Twitter at @Seegrid.
Featured Product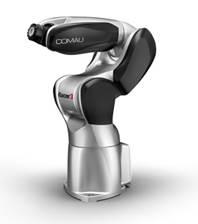 Racer3 is a powerful, high-speed, 6-axis articulated robot featuring a payload of 3kg and a reach of just 630 mm. Built from high-strength aluminum, the newest innovation in Comau robotics is lightweight and can be easily mounted on benches, walls, ceilings or on inclined supports. The third robot within the award-winning Racer family, Racer3 is Comau's response to the growing demand for fast, cost-effective robotic automation within small to medium-sized enterprises and emerging countries. Racer3 is intended for general industry use to increase productivity and reduce overall costs by automating industrial applications. It combines field-proven technology and enhanced dexterity with a keen focus on safety, design and product aesthetics. With a streamlined design and brushed metal exterior, the new powerhouse of a robot combines beauty and speed together with absolute precision and repeatability. Primary applications include assembly, material handling, machine tending, dispensing and pick & place.