Photron's powerful ultra-high speed imaging system offers superior light sensitivity and 12-bit pixel depth (analog-to-digital converters, or ADC).
December 4, 2013 - San Diego, CA - Photron, Inc., a global leader and manufacturer of high speed cameras and image analysis software, introduces the ultra-high-speed imaging system, the FASTCAM SA-Z, featuring an unprecedented 21,000 frames per second at megapixel resolution. The new SA-Z CMOS sensor provides over 2,000,000 frames per second (fps) at reduced resolution, making it possible to view previously unseen phenomenon, events, and high speed processes with excellent image quality and clarity. The enhanced global electronic shutter operates from 1-millisecond (standard) down to an astonishing 159 nanoseconds (export restrictions apply), and is capable of freezing the fastest motion, without blur.

Photron's powerful ultra-high speed imaging system offers superior light sensitivity and 12-bit pixel depth (analog-to-digital converters, or ADC). Applying the reputable ISO 12232 Ssat standard, the light sensitivity measurements are an impressive ISO 25,000 for monochrome and 10,000 for color. The camera's 20 micron-square pixel format is ideal for situations where the camera needs to rotate without sacrificing image resolution that often occurs when other aspect ratio/pixel formats are rotated. The FASTCAM SA-Z system includes Photron's proprietary, award-winning PFV camera control/replay/editing software which can also be conveniently used to rotate the image back, in real time.
The new SA-Z high speed camera has two SD card slots and dual Gigabit Ethernet ports to enable quick and easy image transfer/off load. With four onboard memory options, 8 GB, 16 GB, 32 GB, and 64 GB, Photron's highest speed camera system is well-suited for ballistics, plasma and arc studies, materials science, fluidics, velocimetry, shock waves and detonics applications. For more information, please visit www.photron.com.
Photron, Inc. (USA) (www.photron.com) is a leading worldwide manufacturer and supplier of digital high speed cameras, including the world's fastest mega pixel video systems. High speed imaging products range from low-cost solutions to highly specialized, intensified systems for biofluorescence and combustion analysis. High speed, slow motion cameras featuring high definition (HD) resolution up to 2,000 frames per second are available for motion picture, reality TV, sports, and broadcast applications. For production fault-finding, Photron offers high speed imaging systems with multiple miniature cube or pencil camera heads. For extreme or hostile environments, such as vehicle crash testing and/or military weapons proving, Photron's high-G rated camera systems are utilized. Cameras include standard and custom, high-resolution, high-speed imagers, software, and systems to meet R&D, automotive, commercial, medical, and defense-related motion image analysis requirements.
Featured Product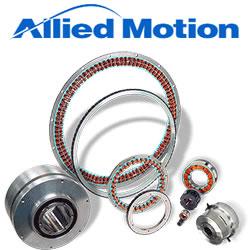 Allied Motion's Megaflux MFH170i series of 170 mm (6.7 in) diameter housed brushless torque motors consists of a high performance brushless DC torque motor, a digital servo drive, and an optical encoder, all integrated into a rugged machined aluminum housing with robust duplex bearings. The MFH0170i series features a 63.5 mm (2.5 in) large-bore through shaft, and is characterized by a very high torque-to-inertia ratio. There are three stack lengths in the series with peak torque ranging from 8.5 up to 16.9 Nm (75 up to 150 lb-in). The standard winding voltage is 48 V. And to ease the hassle of long leadtimes for prototypes, the new MFH170i is now available through our QuickShip program.