Military vehicle manufactures may be reluctant to invest heavily in unmanned systems research and development due to a largely undefined need
LONDON, Dec. 2, 2013 -- Unmanned Ground Vehicles (UGV) represent a tiny proportion of vehicle inventories globally but replacing and complementing manned vehicles with unmanned systems is a powerful opportunity. As yet, it has not been defined how the technology will be best utilised or how new systems will be integrated into force structures. According to Frost & Sullivan in the five-to-ten-year timeframe there will be only a limited proliferation of unmanned technology into the market.

"Currently, the US is at the forefront in terms of integration and acquisition of unmanned systems into its military land vehicle fleet," said Programme Manager, Aerospace, Defence & Security, Richard Hilton. "But even the US has dramatically scaled back its intent to integrate unmanned systems in line with wider cut backs and defence sequestration. Moreover, there are no really significant procurement programmes for UGVs in any other region."
The commercial automotive industry is leading the way in unmanned vehicle systems. Commercial vehicle manufacturers with a significant defence-industry footprint may be able to migrate technology into military vehicles once costs are driven down through increasingly accessible commercial supply. Developments in the commercial sector could provide the tipping point for mass integration of some form of unmanned systems technology in less than ten years with the majority of vehicle fleets, particularly in the application of logistics, having an optional unmanned capability or semi-autonomy, adapting technology from commercial innovations to improve vehicle safety.
"It is interesting to see the parallels between the developments in the unmanned vehicle segment in which lessons could be learned for the wider military vehicles market," added Hilton. "Technology integration through Commercial off- the-shelf (COTS) may become key in all segments and is of growing interest to end users seeking to de-risk technology integration." If these systems are proven commercially, easily trained on, and easily maintained, it becomes much easier to assimilate them into operational structures and concepts.
To date, military vehicle manufactures seem reluctant to invest heavily in unmanned systems research and development whilst end users are focused on a more-limited set of procurement objectives in the present-day fiscal climate. The real opportunity in the application of unmanned systems may well lie in the ability to assimilate effective C4ISR systems to maximise the low-cost platform availability and exploit 24-hr persistence as seen in the air domain.
"For now, in the upcoming five to ten years, there will be only a limited growth of unmanned technology into the market. Perhaps, in five years, semi-autonomous applique add-ons to vehicles will begin the transformative process thanks to commercial advancements, providing the much-needed catalyst to trigger greater exploitation of promising potential," summarised Hilton.
If you would like to learn more about Frost & Sullivan's Market Insight on Unmanned Ground Vehicles, please contact Joanna Lewandowska, Corporate Communications, at joanna.lewandowska@frost.com. Please include your full contact details in the query.
About Frost & Sullivan
Frost & Sullivan, the Growth Partnership Company, works in collaboration with clients to leverage visionary innovation that addresses the global challenges and related growth opportunities that will make or break today's market participants.
Our "Growth Partnership" supports clients by addressing these opportunities and incorporating two key elements driving visionary innovation: The Integrated Value Proposition and The Partnership Infrastructure.
*The Integrated Value Proposition provides support to our clients throughout all phases of their journey to visionary innovation including: research, analysis, strategy, vision, innovation and implementation.
*The Partnership Infrastructure is entirely unique as it constructs the foundation upon which visionary innovation becomes possible. This includes our 360 degree research, comprehensive industry coverage, career best practices as well as our global footprint of more than 40 offices.
For more than 50 years, we have been developing growth strategies for the global 1000, emerging businesses, the public sector and the investment community. Is your organisation prepared for the next profound wave of industry convergence, disruptive technologies, increasing competitive intensity, Mega Trends, breakthrough best practices, changing customer dynamics and emerging economies?
Contact Us: Start the discussion
Join Us: Join our community
Subscribe: Newsletter on "the next big thing"
Register: Gain access to visionary innovation
Featured Product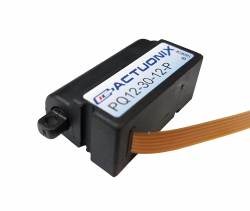 The PQ12-R series of linear servos are the smallest affordable linear servo on the market today. Small enough to fit inside a tic tac box, it's very powerful with a maximum force of over 11lbs. It operates as a direct plug-and-play replacement for standard rotary servos, using the same standard 3 wire connector. Regardless of how you drive your servos, be it with an RC receiver, an Arduino board, or a VEX micro-controller, the PQ12-R servo will function in place of a regular servo, but with the added benefit of providing linear motion. They're available in a 20mm stroke coupled with gear ratio options of 30:1, 63:1 and 100:1 cover a large variety of applications. Our PQ12 is popular used in a variety of robotics applications, medical devices, radio control and 3D printable bionic hands. Our PQ12 is proudly designed in Canada by our in-house team of engineers and thoroughly tested before leaving our facility.