Henrik A. Schunk considers the robotics industry to be on a continuous growth course
12-03-2013 - The members of the European robotics association EUnited Robotics have confirmed Henrik A. Schunk, the Managing Partner of SCHUNK GmbH & Co. KG, Lauffen am Neckar, the competence leader for clamping technology and gripping systems for further three years in his position as chairman. Henrik A. Schunk mainly understands his re-election as an incentive: "It is my aim pushing the European robotics industry forward in the global competition on a continuous growth course, said the committed entrepreneur, who leads a family-owned company. He wants to focus on three key topics in the coming years. Robotics research and technology transfer, the public-private partnership for robotics, and the consistent development of industrial and service robotics. Annual growth rates of three to four percent for the European robotics industry is realistic, said Mr. Schunk.

The European robotics association EUnited Robotics was founded in 2004 by renowned European robot manufacturers. It represents the positions and interests of the robotics industry at the European level. Members are leading robot manufacturers, system integrators, and component manufacturers from the European robotics industry. Moreover, research institutes, and national associations can become a cooperation partner.
Featured Product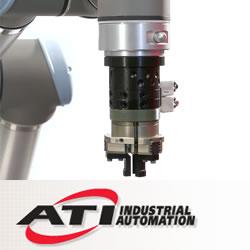 The ATI Robotic Tool Changer provides the flexibility to automatically change end-effectors or other peripheral tooling. These tool changers are designed to function reliably for millions of cycles at rated load while maintaining extremely high repeatability. For this reason, the ATI Tool Changer has become the number-one tool changer of choice around the world. ATI Tool Changer models cover a wide range of applications, from very small payloads to heavy payload applications requiring significantly large moment capacity.